AM/FM radio reach almost back to pre-COVID levels
The Radio On The Move survey reports that radio's reach in Canada is now 93% of what it was in February 2020.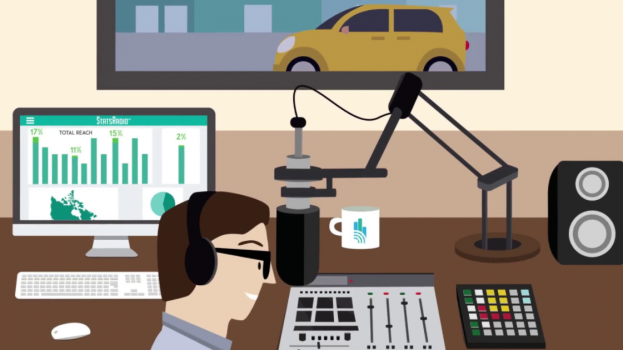 Radio Connects and Signal Hill Insights have released the latest Radio On The Move survey, a study exploring shifting Canadian consumer preferences for audio consumption and painting a picture of what a post-COVID-19 audio landscape might look like.
The report shows that radio's weekly reach is now 93% of what it was in February 2020, with 63% of participants saying they've listened to over-the-air AM/FM in the past week and 18% saying they have digitally streamed AM/FM. Online music streaming (45%), YouTube (42%) and personal/owned music (30%) are the next most popular ways to consume music.
Spotify is the leading digital music service, with 14% of Canadians listening daily (up from 10% last year) and 26% weekly (up from 20% last year). Apple Music and Amazon Prime Music are runners up with 10% and 12% weekly listening, respectively.
Year-over-year growth in on-demand audio streams is slowing, according to the report. Growth was strong between 2015 and 2016 (+305%), as well as 2016 and 2017 (+170%). Growth began to slow from 2017 to 2018 (+47%), 2018 to 2019 (+32%), and 2019 to 2020 (+16%). Eighty-six percent of users of music streaming services still listen to AM/FM radio on a typical weekday, while 21% are heavy AM/FM radio listeners, reportedly listening for more than two hours on a typical weekday. The data also noted that most daily listeners of ad-supported streamers like Spotify also listen to AM/FM radio on a typical weekday.
Like so many other day-to-day activities, AM/FM radio listening on digital platforms has grown during COVID-19. Meanwhile, smart speaker penetration and use of smartphones for all types of audio keeps rising. Looking at survey participants 18-plus, 50% only have a radio in their home, 18% have a radio and a smart speaker, and 13% only have a smart speaker for audio listening. The age group with the highest percentage of smart speaker ownership is 18 to 34 at 27%, with the lowest being 55-plus at 4%.
Of the households that say they own a smart speaker, 23% own two and 21% now own three. From fall 2018 to February 2021, households with three or more grew from 12% to 21%. Privacy concerns around smart speakers are down slightly from last year – from 70% to 65% – but it is still an issue and a barrier to ownership for non-owners. Despite Canadians spending less time out of home, smartphones have surpassed computers as the main device for streaming AM/FM radio at 38%, with 35% listening on their computers, and 21% via a smart speaker.
The Radio On The Move survey was in field this past February and is based on a representative sample of over 2,000 Canadians, 18 and over, from online market research community, Maru Voice Canada.