How Ricola is testing out its reinvention
Fuse and VMC are trying out a range of platforms the lozenge brand might not otherwise use as it tries to create relevance beyond cough-and-cold season.
It's no secret that many industries and verticals have been hit hard during the pandemic. Retail, food services, travel and transportation may top the list, but cough and cold brands like Ricola are also experiencing a category downturn that, in this case, has forced it to highlight its "everyday efficacy."
The "Everyday Voice" campaign is digital-first, complemented by OOH, TV and print. Created by Toronto agency Fuse Create – which also managed the digital media buy with help from VMC on OOH, print and TV – it's a four-week test of an idea explored in its first Super Bowl buy. Currently limited to Ontario, the results will determine what ongoing marketing and a national launch in late 2021 or early 2022 might look like.
The biggest challenge out of the gate was repositioning the product from a seasonal cold and cough lozenge, to something that could be used to soothe someone's voice after doing something like yelling on a roller coaster or cheering during a basketball game, says Rita Steinberg, digital media director at Fuse Create, as it required a big behavioural change.
"We leaned into contextual placement," Steinberg notes. "That was a perfect fit with the creative, because we had four very different videos for different use cases. There's a lot to play with there from a contextual perspective."
The brand went with Facebook and Instagram for the reach and awareness building, she says, but also YouTube and the brand's first foray into TikTok, which offered more when it came to "active listening, engagement and contextuality." There is significant value and impact on TikTok, she says, due to high levels of unduplicated reach, something that can't always be said for Facebook and Instagram.
And while it is a social and digital-first campaign, Steinberg says that, as the teams went through planning, it made sense to extend the mix into out-of-home to ensure they were hitting users wherever they happened to be.
"COVID has turned everyone's everyday habits on its head," said Sarah Howarth, director of media strategy at VMC Media, the agency handling Ricola's OOH activations, so knowing where those everyday moments were going to happen for the 25 to 35 demographic wasn't business as usual.
People are staying home more, so residential OOH made sense, Howarth says, but the agency still had to ensure the message was being delivered, no matter the medium.
"Where are we going to get the most impact with each media channel, while not spreading too thin?" she asys. Grabbing audience attention while they checked the news or monitored the weather also stood out, so VMC bought around CP24 broadcasts during the four-week test as well.
It was here that the creative also played a role. While Ricola is well-known for its yodel, it was important that the message and brand recognition were delivered whether there was audio available or not.
The key, Horwath adds, was creating "a seamless connection between the product and the proposition that we were conveying to the audience," and ensuring they were adding value to the digital-first components of the campaign. In addition to residential elevators and CP24, that included a wrap-around billboard in Toronto's Yonge Dundas Square.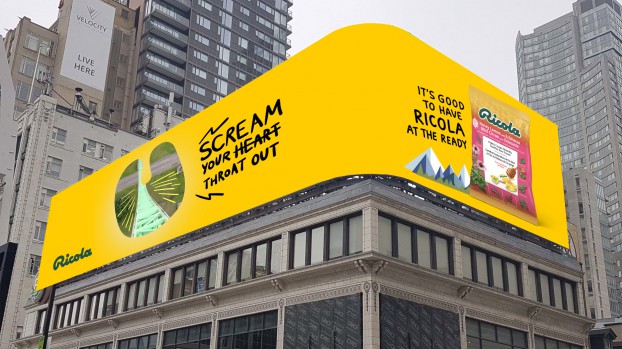 Out-of-home, digital or otherwise, isn't something that VMC would normally add to Ricola's media mix "because of the scale," Howarth says, since the campaigns were typically national in scope. The Ontario-only four-week test made the outdoor activations more feasible, along with a print ad in Horizon Food and Drink magazine (pictured below) to ensure all the "everyday opportunities" were seized.