MaxTV Media makes its move into Quebec
The DOOH agency is also adding live survey functionality to its network of residential touchscreens.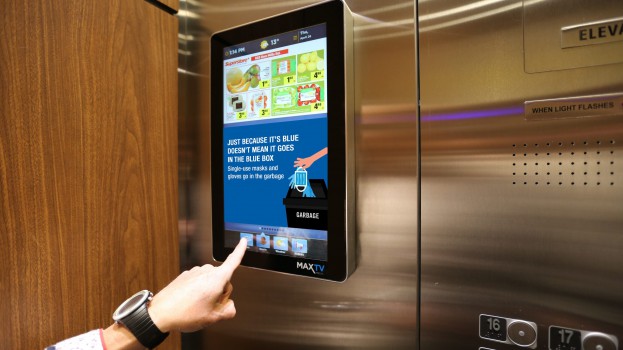 Following what has been a precarious pandemic year for the DOOH industry, Toronto-based MaxTV Media is expanding into Quebec, while also extending a partnership with IHN Media and layering in survey technology to its digital touchscreens.
The company, which specializes in digital screens in condo elevators, begins business in Quebec on Jun. 1. With penetration in British Columbia, Alberta and Ontario, Quebec was the last market in the big picture for MaxTV, according to Erik Kehat, that company's founder and CEO.
"Quebec is the last piece of the puzzle," he tells MiC, one that it is able to pursue now organization has transformed its platform in order to address the French-language residential requirements from a software and hardware perspective.
Out of the gate, the DOOH company's reach in the province will be small, Kehat admits, but he says it should have signed on its first 100 buildings by the end of 2021, which represents approximately 40,000 individuals, primarily in the Montreal market. MaxTV also reaches roughly 200,000 in Ontario, 25,000 in Alberta and over 150,000 in British Columbia.
As far as the deal with IHN Media goes, Kehat says that last year's pandemic-fueled partnership between Adapt Media, IHN, Captivate and MaxTV – combining their networks for the length of the current pandemic to offer advertisers access to their inventory – has been successful and triggered an additional, ongoing agreement signed last month between MaxTV and IHN, officially combining their networks on an ongoing basis, allowing MaxTV to offer national and local coverage in IHN's markets that is specific to all local and nation direct-buy markets in Ontario, Alberta and B.C. 

The two organizations will continue exchanging data on consumer behaviour across the IHN and MaxTV networks, but the next phase goal, according to Kehat, is to upgrade IHN's screens to a touchscreen format to facilitate the survey technology MaxTV has been developing to conduct live surveys in residential elevators across the accessible network, which includes approximately 250,000 people of the organization's larger reach, excluding Quebec, for now, bringing the potential survey network up to half-a-million people across Canada.
The new technology allows media buying agencies and clients to conduct surveys pre- or post-campaign using touchscreen functionality in elevators. Currently, Kehat says they are predominantly running pre- and post-campaign surveys for the automotive and food service categories.