Spotted! Yext goes old school to highlight outdated tech
The search company tried to show business leaders a gap in their marketing with an AOL-inspired CD mailer.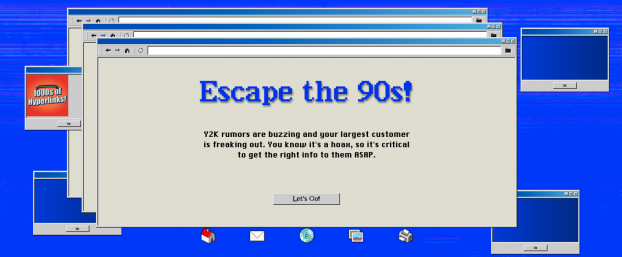 Enterprise search platform Yext took a nostalgia-tinged approach to show marketing leaders the massive gap between enterprise and consumer keyword search.
The May 10 issue of Adweek featured an ad with a CD insert, reminiscent of the mailer AOL sent to would-be subscribers throughout the 90s. The CD-insert has a QR code – along with a warning indicating that, like traditional keyword search, the CD doesn't actually work – and points users to a '90s-throwback microsite where they are challenged to "escape the '90s" and impending Y2K doom by selecting between outdated technology choices in an interactive game. The brand even enlisted the help of *NSync's Lance Bass through Cameo to say "bye bye bye" to outdated search.
The year is 1999. Y2K is looming. Frosted tips are all the rage.

Your mission: escape the 90s and get back to the future. Play now: https://t.co/5fk45lEeoT

Speaking of saying bye, bye, bye to the past…a word from Lance Bass. pic.twitter.com/jVt24ltD62

— Yext (@yext) May 12, 2021
While the mailer and a corresponding TV campaign – the brand's first, running from June to July – are primarily focused on the U.S., the digital campaign is running across North America to also generate more business for its Toronto office. Yext's Canadian clients include TD, Lush, Roots and Choice Hotels.
The activation was an extension of Yext's existing print buy with Adweek, says Josh Grau, the company's CMO. Yext's marketing team had been brainstorming activation ideas, when an AOL-style mailer came to mind. Because so few people were actually going into offices, sending out to clients or leads didn't seem overly effective, but when Adweek informed the team of its upcoming CMO issue, which would reach 50,000 CMOs – the decision makers at the top of Yext's target audience – the idea clicked into place.
"Mostly thanks to Google, the world of enterprise search is stuck in another century because the technology that was all the rage in 1999 hasn't innovated since that time," Grau tells Media in Canada. He calls on-site, enterprise search the "forgotten child" of the larger search world. Brands and agencies will invest in paid search and SEO campaigns, but they won't address the outdated tech that supports their own site search or customer support efforts.
Ultimately, Yext provides organizations with AI-powered search solutions built on its Search Experience Cloud platform. Essentially, it's a storage platform where businesses store and manage all the pertinent facts about themselves. In turn, AI algorithms makes on-site search more effective, but it also has customer service applications, Grau notes. When customers call in with a problem, agents don't always have the answer or solution on hand, but Yext's Support Search product "can help find an exact answer to a particular question with a combination of natural language algorithms that are built to scan complex long form documents," giving the support team what they need, rather than supplying a (potentially unrelated) link based on the keyword matches alone.
"Most people don't know that their [on-site] keyword search is so outdated, but how could we tell that story in a compelling way," he asks. They came up with idea to juxtapose the concept of enterprise keyword search with "stuff that is obvious. You wouldn't dream of running your business with a flip-phone or pager, a CD-ROM, or dial-up modem… so why on earth would you use something as obsolete as keyword search?"