Narcity partners with Canadiens in latest tactical partnership
The publisher wants to add value to brands, but also deepen its connection to cities it covers.

While Narcity's recent partnership with the Montreal Canadiens is well-positioned to help the team engage with a Gen Z and millennial audience, the bigger picture speaks to a more collaborative effort.
These increasingly custom partnerships with Narcity not only add value to clients, but also help the publisher forge a deeper connection with the cities it has a presence in, or those it wants to be more in touch with.
Sports team hold a special place in the hearts of their city's inhabitants, says Julien This, client partner manager at Narcity. Partnering with organizations like Group CH, the Canadiens parent company, allows Narcity to harness "the emotion people have with their sports teams," and truly be part of the city in question. While the media organization already has a strong presence in Montreal through MTL Blog, collaborations like this further entrench that relationship, This says, while also providing great engagement opportunities for the partner.
The Canadiens partnership was customized to include sponsored articles and social content on Narcity Québec and MTL Blog's social accounts over the course of the team's upcoming playoff run. On game days, Canadiens fans can also take advantage of the FanCam Instagram filter presented by Narcity Québec, on the team's Instagram account.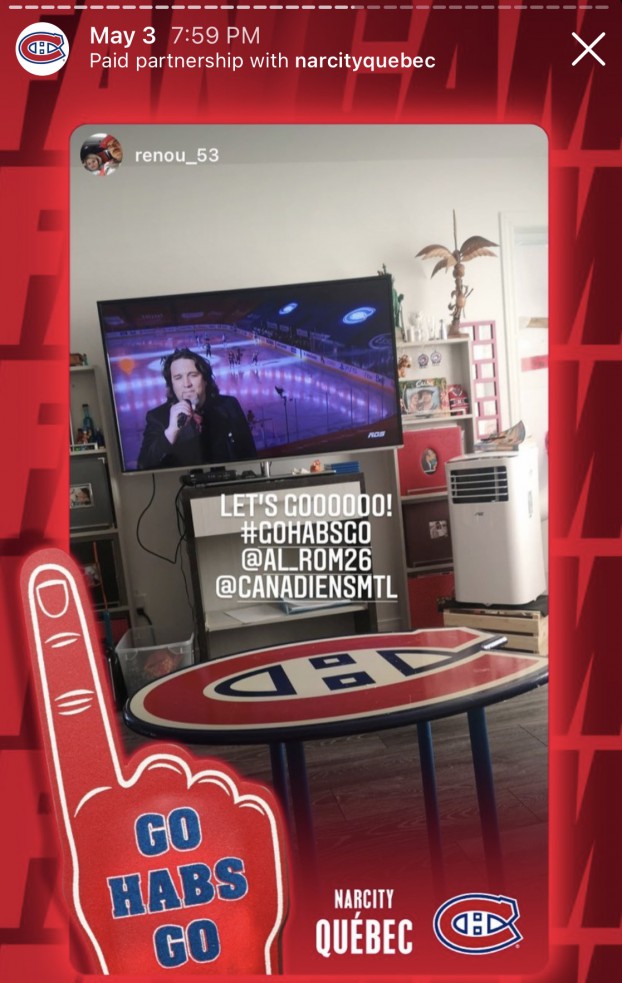 The company was already in a relationship with Group CH, This confirms, but it reached out to see if there was any interest in activating something further, especially during the playoffs, something Narcity is trying to do more of in places like Toronto and Vancouver with sports teams and different event opportunities. Outside of sports, This says Narcity is also working with different Pride organizations, noting the deep connection they have with their respective cities.
The partnerships very much "harden" the relationship Narcity has with cities like Montreal and Toronto, This says, but the strategy also extends to those markets where the company doesn't have as strong a foothold, like Vancouver. A partnership there would not only help Narcity develop a deeper relationship with the local audience base, but also "bring attention from other regions where we have very good reach to encourage people to go there, or experience the [event in question] digitally," he says, noting that most Pride festivals are digital this year, so people can join in the festivities from city to city.
From a client perspective, This says the custom partnerships usually start by reducing the costs around visibility, and while he couldn't get into specifics, it's basically an exchange of media value being offered to the client, for additional opportunities for Narcity to engage and be part of the local population's experience with that brand. For Group CH, This says the FanCam is a great example of how Narcity was able "to be part of the fan base, but also showcase our support of this sports team that is a big part of the city."
As noted, This says the partnership was in place for the end of the regular season and for the playoffs, but it is in discussions to determine how they can extend and evolve the partnership to be something longer-term.
Narcity recently added a self-serve ad platform to its suite of services, as well as adding audio into its channel mix in an effort to rethink local news.