ICYMI: What can Postmedia do for you?
Plus, Sportsnet releases PWHPA schedule, One Club launches a solidarity campaign with an OOH activation, Kidoodle.TV expands its offering, and Vevo releases Vevo Rewind.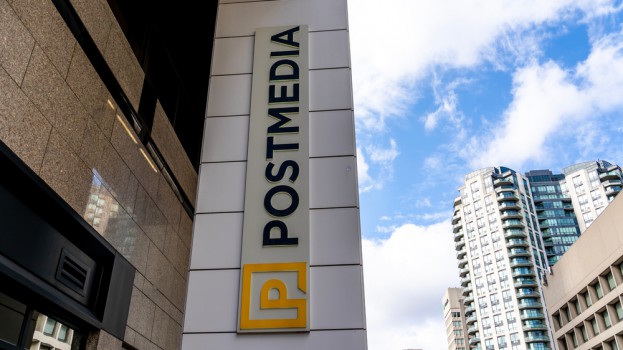 PostMedia delivers new service
In order to further build additional revenue streams, Postmedia is building a national distribution network for small parcel delivery. A new division, Postmedia Parcel Services (PPS), leverage's the publisher's built-in distribution network to expand services across trucking, sorting and distribution of small parcels.
The new initiative kicks off with a strategic partnership with Brunswick News in Alberta, Saskatchewan, Manitoba and certain regions
of Ontario.
"Extending our offerings and trusted relationships in the communities we already serve, through this new partnership, aligns to our corporate strategy," said Andrew MacLeod, Postmedia's president and CEO in a statement.
PPS is expected to launch in early summer and scale up over the summer and fall, and it will include opening new sorting stations, expansion of Postmedia's existing distribution network. It is expected to operate 364 days a year.
PWHPA's Secret Dream Gap Tour schedule released
In the wake of Secret Deodorant and Sportsnet's team up to stream the Canadian leg of the Professional Women's Hockey Players Association's Secret Dream Gap Tour, the broadcaster has released the schedule for the Canadian milestone. featuring PWHPA players across live game coverage. The tour gets underway May 24 with four back-to-back matchups exclusive to SN Now from May 24 to May 27 and culminates with three national TV broadcasts on Sportsnet from May 28 to May 30. All seven games will also be available to stream on sportsnet.ca.
Monday, May 24 – Team Sonnet vs. Team Bauer, 5 p.m. ET (SN Now)
Tuesday, May 25 – Team Bauer vs. Team Scotiabank, 5 p.m. ET (SN Now)
Wednesday, May 26 – Team Scotiabank vs. Team Sonnet, 5 p.m. ET (SN Now)
Thursday, May 27 – Team Bauer vs. Team Sonnet, 5 p.m. ET (SN Now)
Friday, May 28 – Team Scotiabank vs. Team Bauer, 3:30 p.m. ET (Sportsnet, SN Now)
Saturday, May 29 – Team Sonnet vs. Team Scotiabank, 1 p.m. ET (Sportsnet, SN Now)
Sunday, May 30 – Championship Final, 4:30 p.m. ET (Sportsnet, SN Now)
One Club launches solidarity billboard campaign
The One Club for Creativity has launched a campaign called WE ARE ONE, an initiative rallying creatives around the world to take a collective stand against racism and intolerance, working with partners like OOH organization Outfront Media, which has committed to featuring a select number of submissions on digital billboards around the U.S. to raise awareness among the general public and inspire others to play an active role in the fight against hate.
Specifically, the program asks creatives around the world to develop poster images that communicate anti-hate messages, using a supplied template.
While the Outfront component of the media activation is U.S. focused, the initiative is global in scope, with wide-ranging selection committee members including Edelman's Toronto-based global chief creative director, Judy John, as well as other One Club board members.
Once the committee reviews the submissions, the work will be showcased on the organization's website, social media channels and in email newsletters, reaching the club's more than 400,000 global constituents.
Deadline for the first round of submissions is June 18, 2021, specs can be found on the WE ARE ONE website. Work will be reviewed and displayed online shortly thereafter, and Outfront will display the first selection of the designs on billboards, transit shelters and other OOH media at the end of June.
Kidoodle.TV increases its availability
Kidoodle.TV is growing its linear offering with Samsung TV Plus, expanding to additional device platforms within the Samsung ecosystem. The ad-supported smart TV video service comes pre-installed on all Samsung Smart TVs manufactured between 2016 – 2021, and is now (along with Kidoodle.TV) on select Galaxy mobile and tablet devices.
Kidoodle.TV's linear channel features a kid-focused library of over 25,000 episodes, joining other kid-friendly channels in the Samsung TV Plus line-up.
Vevo taps into music video nostalgia
Following its recent partnership news with VIDAA, Vevo has launched a new ad unit called Vevo Rewind. The contextual ad targeting product, powered by the music video network's data-backed content recommendations, allows brands to place their campaign alongside the Vevo music videos of a particular decade, from the 1970s through the 2010s, in addition to targeting a specific genre or country. Vevo also released Moods earlier this year, which is a contextual ad grouping music videos by sentiment.
According to Jessica Schiekofer, Vevo's director of east coast and Canadian sales, "Vevo saw over 180 million views of official artist videos from the '80s and over 290 million views of those from the '90s in Canada last year." Overall, Vevo has 16.1 million Canadian viewers each month, translating into 3.4 million daily Canadian viewers, and 120 million monthly views on CTV. The app reaches 48% of online Canadian adults 18 to 34, and 44% of adults 25 to 54.