Corus unveils 35 greenlights, renewals for lifestyle, factual, kids
The broadcaster kicks off Canadian upfronts with new and renewed series for its channels HGTV Canada, HISTORY, Food Network Canada, Adult Swim, YTV and Treehouse.
Corus Entertainment has kicked off Canada's upfront season with the announcement of 35 renewals and greenlights across its factual, animation and kids specialty networks for the 2021/22 season.
The new slate includes the first Corus original at Adult Swim, nine new lifestyle and factual series across HGTV Canada, Food Network Canada and HISTORY – including eight Corus Studios originals – as well as five greenlit projects for kids channels YTV and Treehouse.
"Corus' ongoing commitment to Canadian content and creators continues with this new wave of greenlights and renewals featuring a diverse mix of original lifestyle, factual, and children's series, from Corus and its production powerhouses, Corus Studios and Nelvana," said Colin Bohm, EVP, content and corporate strategies, in a statement. "We are proud to collaborate with our esteemed production partners to advance new formats, tell engaging stories, and champion voices that inspire audiences in Canada and abroad."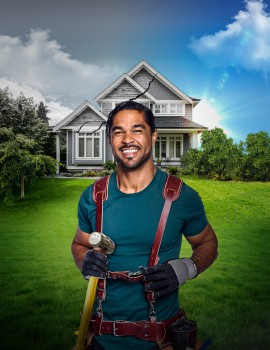 The broadcaster has unveiled four new titles for HGTV Canada, including Gut Job (8 x 60 minutes; pictured, right), with former athlete Sebastian Clovis helping homeowners demolish and rebuild their dream homes, and Styled (working title; 8 x 60 minutes), which follows the renovation and design work of partners Nicole Babb and Caffery VanHorne.
The other two new series are Trading Up (10 x 60 minutes), which features builder Mandy Rennehan renovating three properties in Nova Scotia, and Scott's Own Vacation House Rules (4 x 60 minutes), a spin-off of Scott's Vacation House Rules, where McGillivray applies his rules to his newly purchased waterfront property.
The six renewed series include season four of the channel's most-watch series Island of Bryan (16 x 60 minutes separated in two blocks), and the revamped Making It Home with Kortney & Kenny (10 x 60 minutes). Additional renewals include second seasons of Farmhouse Facelift (8 x 60 minutes), Property Brothers: Forever Home (17 x 60 minutes), Rock Solid Builds (10 x 60 minutes; Cineflix/Corus Studios) and season three of Scott's Vacation House Rules (12 x 60 minutes).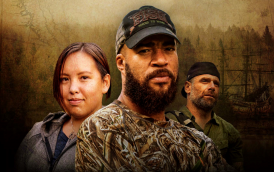 HISTORY has four new series, including BLK: An Origin Story, a four-part docuseries on the history of Black Canadians; 8 x 60-minute series Deadman's Curse (working title, pictured, left) about a former MMA fighter, a young Indigenous explorer and an experienced treasure hunter seeking a lost gold mine; Lost Cars (6 x 60 minutes), about a team of classic car hunters looking for finds in the remote North; and 90-minute film Black Liberators WWII, about Black Canadian soldiers in the Second World War. The two renewed series are Big Timber (8 x 60 minutes) and Rust Valley Restorers (6 x 60 minutes).
Food Network Canada has ordered a spin-off version of Insight Production's Wall of Chefs, titled Wall of Bakers (10 x 60 minutes), which tests home bakers under the shadow of the nation's best bakers. The network has renewed seven series, including second seasons of Wall of Chefs (10 x 60 minutes), The Big Bake (11 x 60 minutes), Project Bakeover (10 x 60 minutes), third seasons of Big Food Bucket List (14 x 30 minutes), Fire Masters (20 x 60 minutes in two blocks) and Great Chocolate Showdown (8 x 60 minutes), and season nine of Carnival Eats (13 x 30 minutes).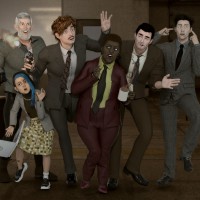 Adult Swim's first Canadian original
In the kids and animation front, Corus will premiere its first original under Adult Swim with Psi Cops (26 x 11 minutes; pictured, right). The series follows two agents as they investigate paranormal and extraterrestrial phenomena.
YTV will premiere three new series, including Super Wish (52 x 11 minutes), a joint venture between Nelvana and Discovery, as well as Best & Bester (52 x 11 minutes) and ZJ Sparkleton (26 x 22 minutes). The channel's renewals include Kid Food Nation: The Show (8 x 11 minutes), Big Fun Movies, The Zone and The Zone Weekend.
Treehouse will premiere new 26 x 22-minute series The Hamster Show (working title) as well as 90-minute film Toopy and Binoo: The Movie, based on the original animated series. The channel has also renewed Agent Binky: Pets of the Universe (52 x 11 minutes) for a second season.
This story originally appeared on Playback.