P&G taps Fuel Digital to reach young Quebec families
A new digital campaign for the Pampers brand commands 100% SOV for first trimester newborns on Mamanpourlavie.com.
Fuel Digital Media has partnered with Proctor & Gamble for the first time to create a digital campaign for Pampers to drive awareness with prenatal and new moms for the diaper brand's new Swaddlers. The campaign runs exclusively on Mamanpourlavie.com (Mom for Life) and its email and social media platforms.
Alain Léveillé, director of content solutions at Fuel, says the campaign was designed to help young Quebec families through their first days with a newborn via Mamanpourlavie.com, and the media tactics were specifically chosen to drive awareness and encourage new moms to opt-in to the free Pampers Newborn samples opportunity.
The Montreal-based media ad rep and marketing content firm created several awareness initiatives for the campaign designed to maximize the potential for interaction between Pampers and its target audience, including a content component featuring eight articles that provide tips on newborn care and wellness. Three of the articles were created especially for the campaign, while the other five were chosen from a list of similar existing content pieces.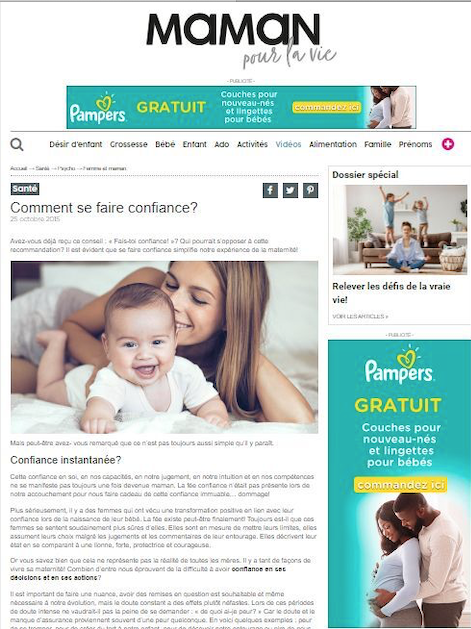 Léveillé says, "Not only does this approach contribute to consolidating Pampers' top-of-mind status with its target clientele, but its informative and useful nature also promotes conversion to the Pampers website."
Sponsorship of articles pertaining to the first trimester and two targeted e-blasts to a selected mamanpourlavie.com opt-in audience, presenting the new Swaddlers and a free try-out offer round out the initiative.
The three-month long campaign is currently live on Mamanpourlavie.com.
Mamanpourlavie.com attracts thousands of parents every day looking for information, to connect with other parents and find answers to questions related to motherhood, pregnancy and childhood. The site also features many resources, contests, and other activities.