Spotted! Pattison and Silk turn billboards into beehives
A pilot project aims to facilitate research about pollinators, while also supporting the plant-based brand's sustainability goals.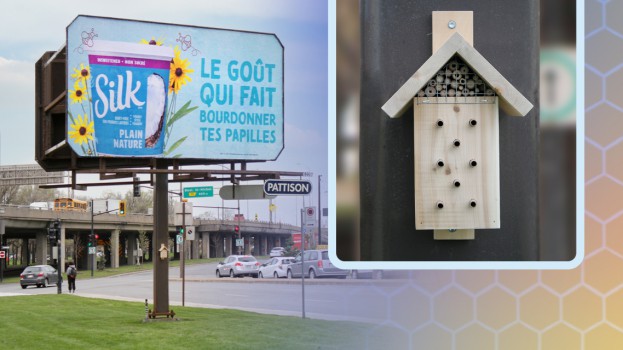 World Bee Day marked the start of a new initiative between Pattison Outdoor and Silk, the plant-based food brand owned by Danone.
But turning some ads into beehives is not just a fun way to get people buzzing about Silk's non-dairy products. The partnership also aims to study and promote the healthy development of pollinators.
The colourful out-of-home campaign bears the slogan "The taste that has your buds buzzing" alongside Silk products, highlighting that the billboards also have nest boxes for solitary bees at ten temporary locations around Quebec, to be studied later by the University of Montreal.
Antoine Vaillancourt-Dutil, account executive at Pattison Outdoor, explains that after reading an article on the population decline of native bees, he realized there was more the company could be doing to help. Discovering that the population of  solitary bees were more threatened than honey bees that establish and live in their own large hives, he brought forth the concept of placing nest boxes around existing billboards.
They could attract the solitary bees, species that do not produce honey or live in hives, like the ones that are typically the focus of "save the bees" efforts, but are still a vital part of the ecosystem by pollinating plants. Reaching out to the University of Montreal, he asked if they were interested in receiving  samples, which Pattison could provide.
"We were looking for something meaningful to do during the COVID-19 lockdown and this environmental crisis," says Vaillancourt-Dutil.
Andreanne Gagnon, senior media planner at Wavemaker, who helped set up the partnership between Silk and Pattison Outdoor, says the timing and nature of the initiative is perfect for the brand. "Silk is a plant based product, and a big driver for plant based consumption is sustainability. The brand was looking for something that would set them apart from their competitors."
Although the campaign will be promoted on social channels, and influencers have already started to speak about the initiative on social media, the campaign is contingent on OOH.
Pattison will also provide native plants and flowers recommended by experts around the billboards that will attract the pollinators to the nest boxes, says Vaillancourt-Dutil.
The billboards will be set up in various settings, along highways, rural areas, and more urban centres with high density populations. While this pilot project is in an initial testing period, the companies hope to continue the project in the future with a larger scale.
"We are hoping to tell a whole summer story of the bees with this campaign," says Vaillancourt-Dutil.