Sportsnet eyes sponsor opportunities with new NHL studio
Rogers is moving hockey broadcasts out of the CBC building, offering more technology and integration opportunities.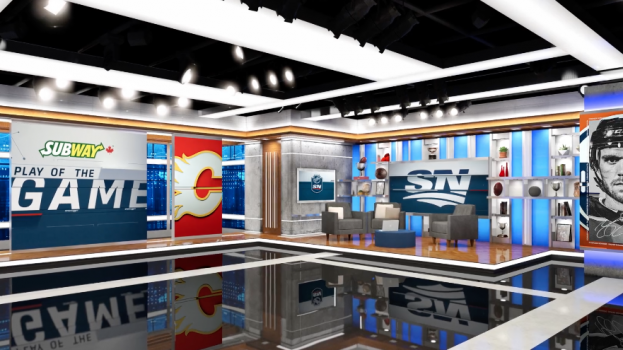 Sportsnet is moving out of the CBC building, launching a new broadcast studio for its NHL broadcasts this fall that will give it more control and opportunity for brand partners.
The new studio, announced Monday by Sportsnet president Bart Yabsley in advance of Tuesday's Rogers Sports & Media Upfront, will be ready for the 2021-22 NHL season. Located at the Rogers Campus in Toronto, he says it's a continuation of the network's efforts to "provide advertisers with an ideal environment to build their brands."
"We're working a lot on sports," Al Dark, SVP of revenue at Rogers Sports & Media, tells MiC. He notes that the Hockey Night in Canada studios are still based out of the CBC building. The new studio will feature technology like customizable monitor walls, which gives the broadcaster "an opportunity to enhance new unique sponsorships and integrations," through things like AR and VR, and integrating them into Sportsnet programming.
Dark also notes that Rogers will be completing "replatforming" the broadcaster's digital assets.
"We really need to up the ante," he says, pointing to the digital side of the sports business. "We want to be on the cutting edge, not just in Canada, but what we're seeing around the world in that sports environment. We're investing heavily on those digital platforms."
Having the NHL on Sportsnet team at Rogers Campus will bring the network's entire production operations under one roof, allowing for more opportunity and integration across all content platforms and sports properties.