Starts and Changes: MaxTV, Outfront, Broadsign and Adapt expand
Plus many more May media moves from companies including Corus, Bell and Snapchat.

By Mike Connell and Patti Summerfield
Starts
Corus set to debut social series with ad opps
Starting in August, Corus Entertainment will begin airing five new social series across its portfolio of brands. The new digital-first projects, first announced in May, are positioned to provide branded content opportunity for advertisers to connect with audiences around trending passion points.
Developed by So.da for @FoodNetworkCa, @HGTVCanada, @HistoryCa, @Showcasetv and @Slicedotca, the in-house produced series will live across each brands' social and digital platforms. Dervla Kelly, Corus' SVP marketing and so.da, says the series are developed based not only on what topics are trending, but also on how audiences respond to the creators. She says audiences vary by series and brand, but generally, social audiences skew younger, with more than half under the age of 35.
Brand integration is a focus for each series, such as custom companion content or product integration within the editorial features. Many are also packaged for the Global TV App and will also have companion content air on linear.
Bell boosts Formula 1 reach
Bell is acquiring the operations of the Octane Racing Group, promoter of the Formula 1 Canadian Grand Prix in Montreal. It is the largest annual sports and tourism event in the country that promotes Montreal at an international level.
Bell says the acquisition reaffirms Bell's goal to increase its presence in Québec media through major investments in culture, sports, and entertainment. Bell and Bell Media's national reach will allow for promotion of the event through its network, broadcasting and digital assets.
The 2019 season was the most-watched F1 season ever on TSN, based on Numeris measurement of Total Canada for live races. Audiences for the two networks during the 2019 season grew by 21% over 2018, reaching nearly 5.3 million unique viewers.
Snapchat launches shoppable (and snappable) platforms
Businesses can now establish a permanent presence on Snapchat with Public Profiles for Businesses.
Public Profiles for Businesses lets companies create a more permanent presence on Snapchat where they can showcase their AR Lenses and Stories, plus a Shop page where Snapchatters can browse and buy, turning the platform into an organic point of sale. The feature has been in beta testing since July 2020.
With new API-powered Lenses, brands can build AR Shopping Lenses by uploading their product catalogues and 3D product assets through the Business Manager. Snapchatters using the Lenses will get real-time product and pricing updates, and brands can access new analytics on Lens usage. In addition to shopping, partners like Major League Baseball and Strava will now feed real-time scores and stats right into Lenses through the API.
Snapchat reaches more than nine million people in Canada, specifically over 80% of 13- to 24-year-olds and more than two-in-three 13- to 34-year-olds. The platform has over 500 million monthly active users worldwide, including nearly half of smartphone users in the U.S.
MaxTV makes first move into Quebec
Toronto-based MaxTV Media is expanding into Quebec. The company, which specializes in digital screens in condo elevators, began business in Quebec on June 1.
With penetration in British Columbia, Alberta and Ontario, Quebec was the last market in the big picture for MaxTV, according to Erik Kehat, the company's founder and CEO. Kehat says it should have signed on its first 100 buildings in Quebec by the end of 2021, which represents approximately 40,000 individuals, primarily in the Montreal market. MaxTV also reaches roughly 200,000 in Ontario, 25,000 in Alberta and over 150,000 in British Columbia.
MaxTV is also extending a partnership with IHN Media and layering in survey technology to its digital touchscreens. Last year's partnership between Adapt Media, IHN, Captivate and MaxTV – combining their networks for the length of the current pandemic to offer advertisers access to their inventory – triggered an additional, ongoing agreement between MaxTV and IHN, officially combining their networks on an ongoing basis.
The next goal is to upgrade IHN's screens to a touchscreen format to facilitate the survey technology MaxTV has been developing, so that it can conduct live surveys in residential elevators across the accessible network. The new tech allows media buying agencies and clients to conduct surveys pre- or post-campaign using touchscreen functionality in elevators.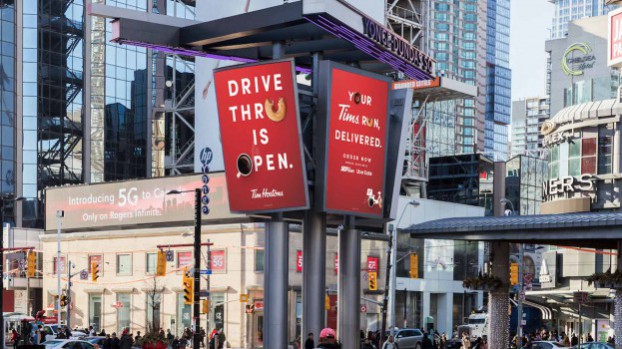 Changes
CBC/Tele-Quebec changes media partner
Starting this June, Télé-Québec is partnering with CBC/Radio-Canada Media Solutions for ad sales outside of Quebec. CBC/Radio-Canada Media Solution's sales force will complement Télé-Québec's Montreal-based sales team, which is focused on Québec. The educational programming-focused broadcaster, owned by the Quebec government, had been working with Airtime Television Sales, but reportedly found it increasingly difficult to compete for media dollars at the national level.
Télé-Québec opted for a media partner with complementary content and a like-minded target audience to represent and increase exposure of its inventory to advertisers outside the province. For the CBC, while the two public broadcasters have worked on pitches and RFPs in the past, the partnership with Télé-Québec is new ground and unlike any collaboration to date, according to Donald Lizotte, GM and chief revenue officer at CBC/Radio-Canada Media Solutions.
"By representing Télé-Québec's products outside of Québec, we are able to share our expertise of Franco-Québec content with the rest of Canada, which our teams in English Canada have been doing for many years," he said. "At the same time, this partnership will provide efficiencies for clients, and eases the load of transactions they have to complete on a daily basis."
Overactive Media builds lifestyle brands via Red Bull and Bell
Overactive Media signed a multi-year deal with Red Bull, as well as expanded the role of its founding marketing partner, Bell Media.
The esports company's partnership with Red Bull includes a brand-new Red Bull Gaming Studio – Overactive's new gaming content hub – as well as product integration, custom co-branded content, and support for Red Bull's own gaming events.
Overactive is evolving from an esports franchise owner – it is the owner of four major global esport franchises – to building lifestyle influencer brands. Its strategy around merchandise, content, influencers and audience aggregation is not just about esports teams and match broadcasts, but to be a broad gaming and entertainment brand.
Bell Media, which signed on as Overactive's founding marketing partner and minority owner in 2019, has now positioned its Bell Fibe Zone as the official training room for Overactive's Toronto Ultra and Defiant esports franchises. Devorah Lithwick, SVP and chief brand officer at Bell Canada, says the partnership is a fit with the company's growing investment into esports, an area the company see big opportunity in as its popularity "skyrockets" and the prospect of live events returning gets closer.
The esports audience is massive – according to esports and gaming market research firm Newzoo, global games live-streaming audience will hit 728.8 million in 2021, growing 10% from 2020, and up to 920.3 million by 2024. Alyson Walker, chief commercial officer at Overactive says 5.7 million of those esports fans are in Canada.
Cafeyn expands into Canada
Cafeyn, an international news streaming platform, has moved into Canada via a partnership with Telus. As part of the agreement, Telus Rewards customers will have unlimited access to Cafeyn's magazine and newspaper inventory on the web and app.
The platform is subscription-based, providing distribution for its partner publishers, so while it doesn't facilitate additional advertising opportunities, it does provide publishers with additional readership and increased exposure for their own ad units.
Cafeyn already has a wide variety of Canadian publications available, both in English and French, and is planning to add more in the coming months. Publications in English include Canadian Geographic, Business in Vancouver, Newsweek, The Guardian, The Observer, Hello!, T3, Wallpaper, Canadian Running magazine, Triathlon Magazine Canada, Canadian Cycling, Gripped The Climbing Magazine, Max, Glamour, Lifestyle and BBC Good Food Magazine.
French language titles on the list right now include all newspapers from CN2i in Québec (Le Soleil, Le Droit, Le Nouvelliste, Le Quotidien, La Tribune, La Voix de L'Est), Les Affaires, L'actualité, Gestion, Libération, Sciences et Avenir, Challenges, GQ, Vogue, Stratégies, Vanity Fair and Runner's World.
Wise Publishing finds a new minority owner in Postmedia 
Postmedia has taken a minority ownership position in Wise Publishing, the publisher of MoneyWise. The change provides Postmedia's audience with additional personal finance content and tools, while also supporting and continuing to build the MoneyWise brand.
MoneyWise.com and MoneyWise.ca reach 10 million unique visitors monthly and represent a complementary investment to Postmedia's existing personal finance inventory, adding to its more than 120 brands across multiple print, online and mobile platforms.
Wise also brings additional performance marketing resources to the table, along with experience engaging financial audiences.
Adapt Media grows its inventory
Place-based out-of-home provider, Adapt Media, doubled its OOH inventory and increased its DOOH presence to over 6,000 screens across Canada.
The OOH company has been known as "the c-store company," says Jamie Thompson, newly appointed CEO of Adapt Media, but its relaunch and repositioning speaks more to getting in front of Canadians in motion across drive test centres, airport lounges, residential condo networks and convenience stores and gas stations.
To that end, Adapt partnered with global convenience store operator, Circle K (Couche-Tard/Mac's), which has over 2,600 gas station and convenience store locations in Canada. Adapt Media also partnered with airport DOOH provider ReachTV, along with renewing existing partnerships with Plaza Premium Airport Lounges and Serco's Drive Test Centres.
Outfront expands partnership with Broadsign
Outfront Media Canada partnered with Broadsign Reach to make its inventory more accessible.
More than 300 of Outfront's large format, digital transit shelter formats and interior mall network screens across Canada are now accessible through Broadsign Reach's network of over 35 DSPs, including its self-serve ad buying platform, Campsite.
In addition to the availability of Outfront inventory on its platforms, Adam Kahansky, director of business development, Canada says Broadsign is working on bringing some first-to-market technology to Canadian marketers in the coming months.