Upfronts '21: Corus 'unboxes' new ad opps
On top of combining content with commerce, Corus significantly invests in its influencer network.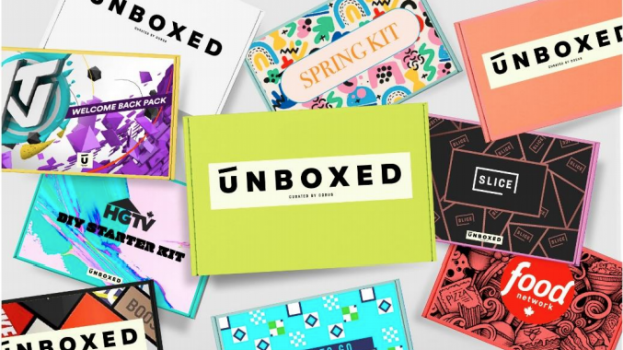 In an effort to drive more effective product discovery and trigger trial conversions, Corus unveiled a new sampling program during its Upfront presentation on Wednesday, June 9, alongside news around significant expansion of its Kin Community influencer roster. The announcements came after the media organization announced its tried and true programming strategy.
The new "Unboxed by Corus" program is powered by the broadcaster's different specialty brands and its influencer network, connecting commerce with content to convert audiences through the organization's first-party data set. The program will feature sampling opportunities like "The Foodie Box" by Food Network Canada and "The Glam Box" by Slice, each filled with custom products and samples from Corus' brand partners and amplified across its digital and linear platforms.
Corus tested the program through a number of successful campaigns this past year, including partnering with Arm & Hammer to launch a new oral hygiene line of products targeting health conscious Canadians. Appropriate Kin influencers were tapped to share the campaign and trigger engagement. Within the first 48 hours, and after only two creator posts, 11,900 samples were claimed, prompting an order of an additional 11,600 more, and two thirds of consumers said they planned to purchase the toothpaste after trying it.
"We've always focused on building and nurturing communities around their passion points and whether it's on linear, digital or social, we have incredibly engaged audiences who want to buy what they see, particularly via our lifestyle brands," Dervla Kelly, SVP marketing and so.da, Corus Entertainment, tells MiC.
"With the acceleration in social commerce in over this past year, we have been building out new opportunities to connect our audiences with our advertisers, and also to help bridge the gap between awareness and transaction," adding that while they are aware that online shopping is growing in popularity, consumers "still love to try out a physical product before they buy it, read a review or a recommendation."
Activations can include editorial product reviews and testimonials, remarketing, integration into Corus' Amazon storefronts and further amplification through the Kin Community, which, in turn, has announced it is adding 115,000 new Canadian creators to its network, plus an additional 8,000 Canadian TikTok creators joining later this month.
The new influencer additions cover categories like arts and culture, entertainment, fashion, beauty, food, home and DIY, wellness and parenting.
According to Corus' statement today, the increased investment is focused on the return advertisers are seeing – $5.20 for every $1.00 spent, or a 420% ROI – on influencer marketing.
"Our Kin business has been growing exponentially, and as marketers we see the impact creators are having not only on awareness, but also sales. We're scaling our roster to meet this growing demand across all platforms," Kelly adds, noting that TikTok and its audience (which she says is aging up) has been a big part of Corus' influencer impact over the past year..
The Kin network currently includes creators like The Domestic Geek (2.2+ million), hot for food (926.4K), Alexandra Gater (477.3K) and DIY Mommy (843.98K), and uses data and trends from Corus to inform campaign development.
Near the end of the Upfronts, Troy Reeb, EVP, broadcast networks at Corus, announced the addition of dynamic ad insertion in fall across its live radio feeds and podcast properties in partnership with Canadian Broadcast Sales.
Corus' chief revenue officer, Greg McClelland, also unveiled a new integration with Mediaocean to help partners more easily access campaign data, along with a "full suite of attribution products" that they plan to roll out later this year.