Pinterest makes it easier for brands to sell
Improving brand trust and discoverability has Canadian retailers like Knix and Article testing out the new platform features.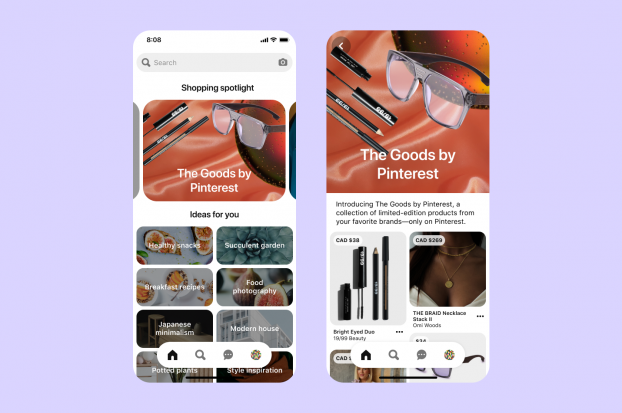 Doubling down on the idea that shopping online needs to be a more positive, trusted process, Pinterest has layered on new social shopping features to more closely emulate the in-store experience and to make things easier for brands to feature their products.
For brands, the new upgrades provide more discoverability capabilities, with new ways to explore, shop and buy, while also making it easier for merchants themselves to set up on the platform, along with a verified merchant program to add more trust to the social shopping experience.
Two additional new Pinterest features have been launched to help merchants put their products in the spotlight. The Goods by Pinterest is a two-week Shopping Spotlight that gives Pinners access to limited edition products exclusively sold through Pinterest from emerging DTC brands such as Canadian retailers Park and Fifth and Omni Woods. Multiple brands are featured at the same time.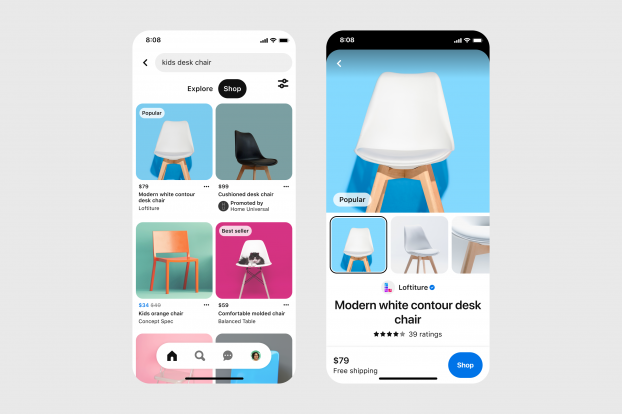 The second new feature is a Shop The Mood Pop-Up, which goes live June 14 and features five curated collections that reflect trends of the moment using data from Pinterest Predicts. Themes include "upcycled fashion," "peak picnic" and "modern mystic."
The enhancements to the customer shopping experience include Shopping in Search, Shopping in Lens, Shopping in Closeup, Shop Your Board, and a Shopping List, where pinners can be informed of  price drop notifications, which is currently only available in the U.S. and U.K., but coming soon to Australia, Canada, France and Germany.
From a brand trust perspective, the new merchant verification sets standards around ability to set up a shop, verifying things like product price, product accuracy (does the image match the product, and merchant's can't be resale or consignment focused), in-stock status, shipping and return policies, along with a quality website and product pages (Pinterest looks for editorial content like improper grammar, typos, fuzzy or grainy product images) – all the negatives a consumer would catch.
The program launched with retailers like Knix and Article in Canada, which get the special blue checkmark on their profiles and become eligible for increased distribution within high-intent shopping experiences and metrics like conversion reporting.
The new storefront experience enables merchants to transform their shop tab into a storefront with featured in-stock products organized by category, featured product groups, and dynamically created recommendations. Merchants can also add product tags so users can see product details and price more easily, tapping the tag to visit the product Pin to learn more.
Because 97% of the top searches on Pinterest are unbranded (source: Pinterest Internal Data), this means people use Pinterest to shop for generic terms and not specific brands so businesses of any size can appear in searches and be served up to Pinners looking to make a purchase. For advertisers, new research shows that giving people the time to consider and enjoy shopping – versus rushing them through the social commerce experience – results in significantly higher spend (source: GfK, US, Pinterest Path to Purchase Study among Weekly Pinners who use Pinterest in the Category, Nov 2018).
Despite recent data indicating that 42% of millennials say they wouldn't consider buying a product they've seen on some social platforms, the platform reports that it is seeing a more expansive and diverse audience leveraging the platform, with Gen Z, millennials and men making up the audience segments driving the majority of Pinterest's new user growth.