Sportsnet announces Stanley Cup semifinal schedule
Playoff viewing analysis indicates round one experienced a year-over-year AMA increase of 55%.
Sportsnet has announced its Stanley Cup semifinal coverage featuring four divisional winners set to face off starting Sunday.
Post-season viewing continues on Sportsnet, CBC and OMNI, and can be streamed on SN Now and NHL Live. Fans can also catch original content and stay up-to-date with the latest news on sportsnet.ca, the Sportsnet App and across Sportsnet's YouTube, Instagram, Twitter and Facebook channels.
The semifinal coverage comes on the heels of Sportsnet's announcement that it is moving hockey broadcasts out of the CBC building, offering more technology and integration opportunities with a new immersive, multiplatform NHL studio for fall 2021.
Sportsnet's Stanley Cup playoffs round one analysis, game seven between the Leafs and Canadiens was the most-watched NHL broadcast ever, reaching 11 million Canadians (beating the previous record held by game six, which reached 10.2-million Canadians), with the entirety of round one coverage reaching 19.4 million Canadians, or 52% of the population for a year-over-year AMA increase of 55%. Round two analysis is forthcoming.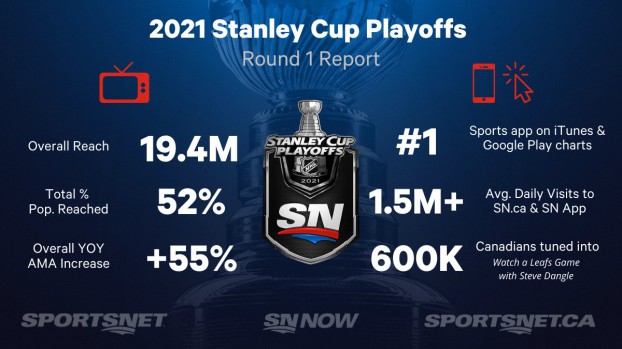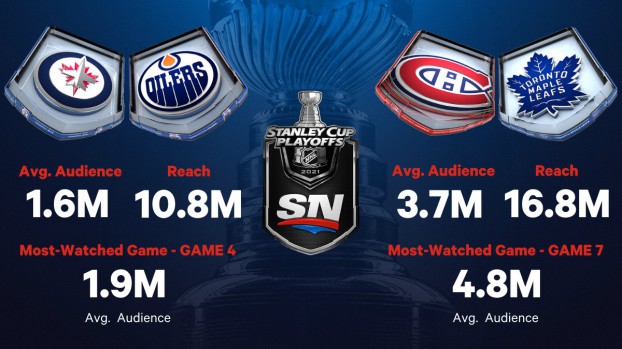 The North division victors, the Montreal Canadiens – who last won the Stanley Cup in 1993 – kick off their continued run at the Stanley Cup against the Las Vegas Golden Knights on Monday, June 14 at 9 p.m. ET on Sportsnet and CBC.
Montreal Canadiens vs. Vegas Golden Knights
Game 1: Monday, June 14, Montreal @ Vegas, 9 p.m. ET on Sportsnet and CBC
Game 2: Wednesday, June 16, Montreal @ Vegas, 9 p.m. ET on Sportsnet and CBC
Game 3: Friday, June 18, Vegas @ Montreal, 8 p.m. ET on Sportsnet and CBC
Game 4: Sunday, June 20, Vegas @ Montreal, 8 p.m. ET on Sportsnet, CBC and OMNI
Tampa Bay Lightning vs. New York Islanders
Game 1: Sunday, June 13, NY Islanders @ Tampa Bay, 3 p.m. ET on Sportsnet, CBC and OMNI
Game 2: Tuesday, June 15, NY Islanders @ Tampa Bay, 8 p.m. ET on Sportsnet and CBC
Game 3: Thursday, June 17, Tampa Bay @ NY Islanders, 8 p.m. ET on Sportsnet and CBC
Game 4: Saturday, June 19, Tampa Bay @ NY Islanders, 8 p.m. ET on Sportsnet and CBC