Reddit kicks off first campaign in a Canadian media strategy
Digital-first and supported by a strong OOH effort, the platform is looking to drive awareness and user acquisition.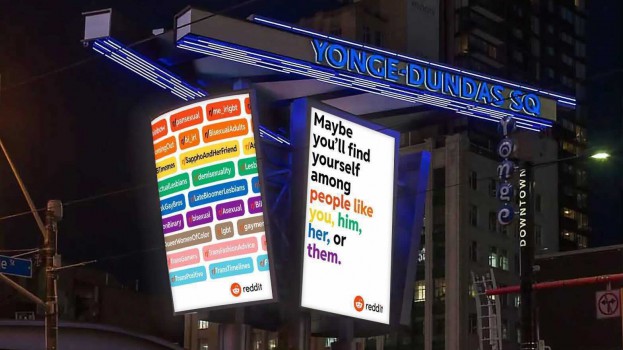 In an effort to get more Canadians to discover Reddit, the platform has launched its first consumer marketing campaign in the country with a heavy focus on digital and OOH, the opening salvo in a larger Canadian media and marketing strategy.
Launching in the middle of Pride Month, the North American creative – "Maybe Together We'll" – begins with a series of OOH activations in celebration of Reddit's LGBTQ+ communities, and will run through the end of July. Those communities will also be featured in the campaign's hero film, showcasing snippets from a range of subreddits, proving that almost anything is possible when people come together.
Digital made up the lion's share of the campaign spend in Canada, according to Reddit CMO Roxy Young. "With this campaign, we are targeting new and existing Reddit users in select markets: New York, Chicago, San Francisco, LA and Toronto. For Canada, digital was the majority of our spend for the campaign, followed by OOH."
OOH has been a source of success for relaying Reddit's message in the U.S., Young says, most recently in its "Up the Vote" voter initiative last year.
"This campaign especially is about attracting new users to the Reddit platform and celebrating the depth and breadth of our communities in order to do so," Young says. "By showcasing [them] on high-profile OOH placements that are coupled with a strong digital strategy, we're confident we'll be able to encourage even more people in Canada to dive in and discover Reddit."
Young says the campaign fits into a larger marketing strategy for Canada that includes investing in evergreen, performance campaigns for user acquisition.
The campaign follows the opening of a Canadian office this past March, and Reddit's blink-and-you'll-miss-it five-second Super Bowl ad, which leaned into the "underdog" status that had been amplified by the Gamestop stock trading frenzy, saying it spent all of its budget on the longest ad it could afford.
"We publicly declared that we'd spent our entire marketing budget for the year on our February Super Bowl spot and it was the truth at the time," Young admits. "Since then, and due in part to the ad's success, we've been able to allocate additional budget for our 2021 marketing efforts to ensure we can continue to introduce new audiences to Reddit, especially those in Canada where we recently launched."
The campaign was developed in partnership with Reddit's AOR R/GA California – which handled creative as well as the media buy – and went live today in Toronto, as well as New York, Chicago, San Francisco and Los Angeles, with like-minded executions planned for the U.K. later in the year.