SkipTheDishes uses in-game integration to improve the playoff viewing experience
The league's official food delivery app is using special in-broadcast ads to make ordering during a game easier.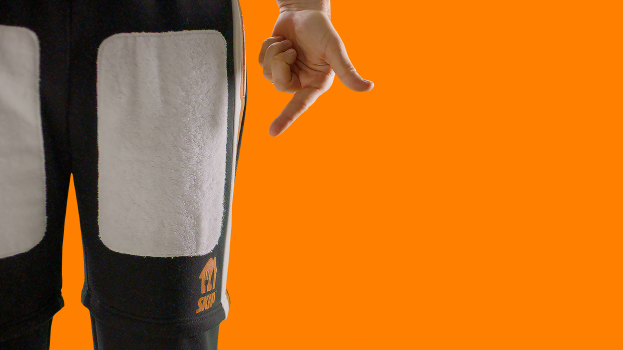 With hockey fans largely watching the NHL playoffs from home this season, SkipTheDishes is trying to make the experience more enjoyable by making it easier for fans to order meals they can't enjoy at their favourite sports bar or restaurants.
Through its existing partnership with Sportsnet and status as the official food delivery app of the NHL, Skip has been displaying a unique QR code on television screens during playoff pregame segments.
Scanning the QR code will automatically open the Skip app on a viewer's device and directly connect them to the ordering process. If they do not have the Skip's app already downloaded, the QR code will take them to the app store to do so.
"It's a more direct way to connect the viewing of the playoffs with ordering," says Cheryl Radisa, VP of marketing for SkipTheDishes.
Skip's integrated NHL marketing strategy, which began this season, also includes national commercial ad buys during games, broadcast-visible signage, digital advertisements and social media integration. For the playoffs, Skip released a new spot centred around "Playoff Pants," a cheeky piece of activewear for playoff viewing that eliminates the need to leave the couch to find a napkin during a game. The "significant media package" was developed by UM.
Despite the fact the pandemic has resulted in more Canadians viewing the playoffs at home – as opposed to bars, restaurants or arenas – the initiative was not created specifically in response to the pandemic.
Introducing the QR code, a first for the brand, was a natural progression for the app, says Radisa, and Skip's goal with the sponsorship has always been to connect with audiences viewing at home. While that is particularly true this year, the NHL playoffs are always expected to have strong viewership, Radisa explains, especially when a Canadian team is playing.
"We've seen about a 55% increase in viewership across all audiences. So we know that the viewership is strong, and depending on whether or not a Canadian continues in the playoffs. With Montreal making the playoffs until the semi finals, we see audience numbers even stronger," says Radisa.
Elsewhere, the brand is also temporarily featuring an official NHL zamboni on the order tracker screen on both the Skip app and website instead of a car, and the web version of the ordering platform will be changed to feature custom hockey-themed imagery for playoffs.
Skip is also in partnerships with six Canadian NHL teams: the Vancouver Canucks, Edmonton Oilers, Calgary Flames, Winnipeg Jets, Ottawa Senators, and Montreal Canadiens. The brand was also named the official sponsor of Hockey Canada in December, a multi-year partnership in which Skip became the official food delivery app of the 2021 World Juniors' tournament.