COMMB launches new monthly Insights Report
The new OOH report measures consumer traffic resurgence across over 17 markets compared to the same time period in 2019.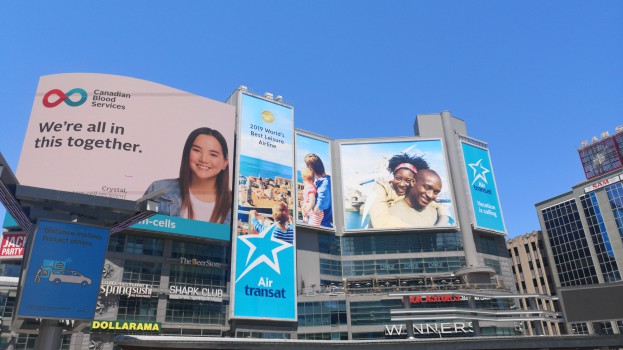 The Canadian Out-of-home Marketing and Measurement Bureau (COMMB) has launched a new monthly report on consumer travel patterns to provide members with insights on OOH inventory and highlight changes around consumer activity as we emerge from post-pandemic life.
The new COVID-19 insights report provides a regional overview comparing consumer travel patterns across more than 17 markets, in addition to data on product groups, road types and custom geographic areas. The results represent the movement within COMMB's OTS criteria (opportunity to see, or viewshed, which is the entire geographical line-of-sight area visible from a location) in comparison to the same time period in 2019.
In a like-minded effort, Novus Media Canada, in partnership with Adapt Media, previously launched a similar monthly insights report in March 2020 and issued its final report in Q1, knowing COMMB was producing one for the industry. Debbie Drutz, president of Novus, says investment interest is returning in tandem with re-opening. "We're starting to see marketers interested in OOH with planning now happening for Q3 and Q4. In April, we were only seeing inquiries 30 days out, so I'm relieved to see that OOH is starting to become top of mind. Both static and digital are equally favourable as consumers just want to be outside."
According to the first June 2021 issue of the report – Insights, Growth and Change in OOH – the Eastern provinces and markets have experienced some of the hardest hitting, government-imposed restrictions, but now that stay-at-home orders seem to finally be coming to an end, Eastern Canadians are increasingly stepping out of their homes, into their cars, and enjoying a stroll in the sunshine, patios, and retail shopping.
In the three Ontario markets examined in the report, Hamilton is trending at normal levels for May, even after minor decreases for three of four product groups (outdoor digital, poster, street furniture and superboard) since Q1. Within the Ontario side of the entire Ottawa market, there was a slight decline (3.9%) in activity for all four product groups from Q1 to May 2021, while Toronto saw a slight increase (4.8%) in May.
Hamilton has maintained above average movement over the combined period of Q1 and May 2021 with 12% above 2019 numbers for consumers exposed to street furniture and 98% of 2019 numbers for those consumers exposed to posters. Ottawa also maintained high patterns of movement in May as compared to 2019 numbers, however, for different product types than Hamilton's peaks.
Specifically, Ottawa saw outdoor digital and superboards as its key product groups in May as compared to the 2019 pre-COVID baseline.
Overall, the Toronto market saw a slight increase in all product groups from Q1 to May 2021, with superboards seeing the highest increase (7.4%) followed by outdoor digital (5.1%). In comparison to 2019 data, posters and street furniture have the highest percentage of OOH activity.
In Quebec, Montreal is doing well in recent months in terms of overall market activity with baseline conditions at 87% in May 2021. A review of activity across the product groups indicates activity for posters are nearing normal levels, with May at 95%. Superboards are trending well at 91% and outdoor digital at 83% in May, up from 69% in Q1.
Quebec City's overall market activity stands at 93% of baseline conditions in May with upward trends among all product groups, with posters running higher than overall market activity. Posters activity in Quebec City is on par with pre-pandemic numbers at 99% movement compared to the 2019 data, with all other product types ranging between 80% to 87%.
There have been vast improvements in Western Canada's major advertising markets, with the top three markets trending upwards. Edmonton saw the greatest increase of 13.8% in consumer movement Q1 and into May 2021, reaching 91% of pre-COVID-19 levels. Calgary indicates 81% of baseline activity and Vancouver is at 74% Q1 to May 2021.
Central Canada is also on the upswing with Winnipeg at 92% of pre-COVID-activity. Various product groups in Western and Central Canada are increasing in the three Western markets from Q1 to May, with outdoor digital up slightly in May; posters up almost 10%; street furniture is up 8.5%; and superboards in Edmonton are up from 82% to 99% activity.
COMMB's media owner members have access to an interactive COVID Insights dashboard with direct access to insights on their own inventory and the varying changes of consumer activity in the transition to post-pandemic life. The dashboard includes over 10,000 locations across the country, three years of historical data, and will continue to add monthly data throughout 2021.