Spotted! Health Canada uses DOOH to drive discussion
In the first use of Twitter Billboard in Canada, Public Health is trying to trigger a national conversation around vaccinations.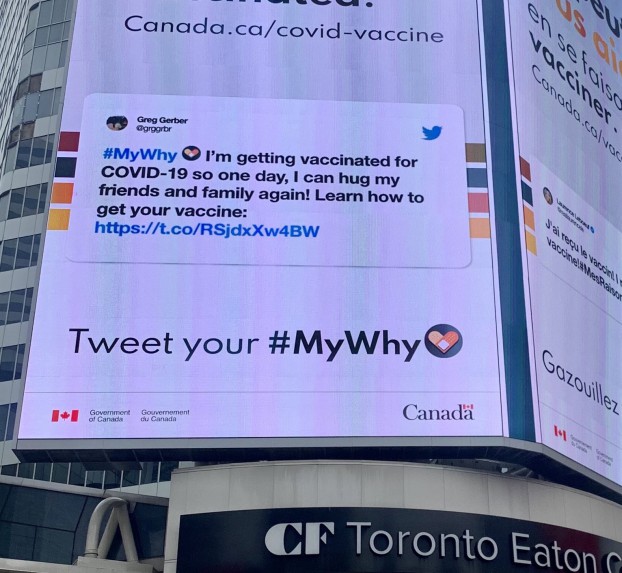 While billboard activations are traditionally positioned to drive top-level awareness, the Public Health Agency of Canada is trying to drive more discussion and engagement around COVID-19 vaccinations through a partnership with Twitter in the social platform's first activation of its Twitter Billboard product in Canada.
While there have been billboard campaigns utilizing content from Twitter in the past, Twitter Billboard is now a specific product in the platform's media inventory, giving users an opportunity to have their tweets featured on a DOOH board.
The campaign was developed along with Cossette Media and Dive Networks, the latter of which uses DOOH tech to facilitate real-time broadcasting across its inventory.
Marcella Sousa, director of public education at Health Canada and the Public Health Agency of Canada, says the idea of the campaign is to "remind people that the individual choices we make will have a positive impact on our collective future" – and right now, that means getting vaccinated. Using Twitter Billboard and Dive's tech, the agency could support that idea by using real Canadians talking about the things they could soon get back to, now that they have gotten their shot.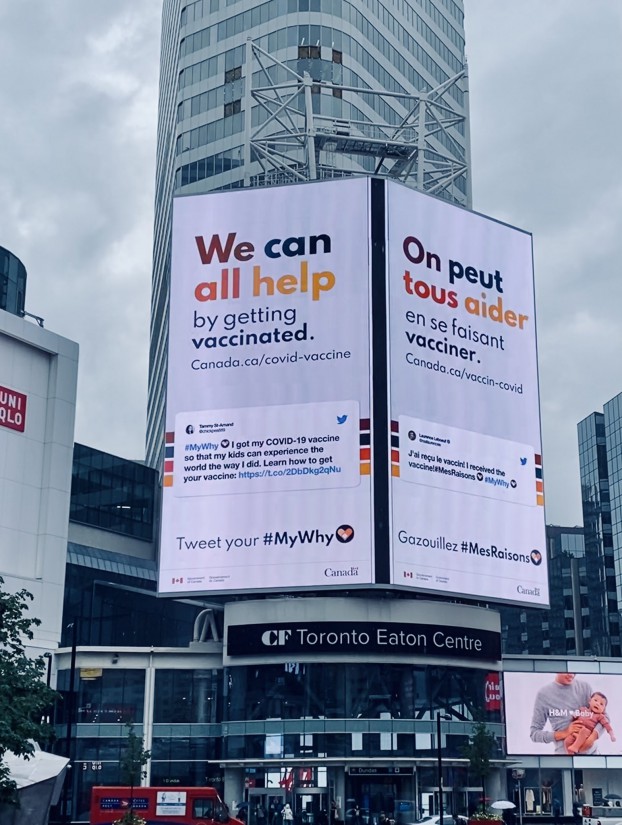 Public Health's "#MyWhy" campaign takes over DOOH screens in Toronto, Montreal and Vancouver to drive a national conversation around COVID-19 vaccinations, the inaugural billboard-first activation for Twitter Canada. Greg Gerber, senior client partner, Twitter Canada, tells MiC that the platform has been working with clients on more campaigns that are led by OOH content, rather than only doing social-led campaigns that happen to have OOH elements.
The billboards will run in both English and French and leverage a mix of targeted local screens – transit shelters, residential and roadside billboards – and large "spectaculars." The broader campaign includes television, print, radio, digital, social media and other out-of-home placements, says Sousa.