Spotify adds podcast adtech and targeting in Canada
The audio platform makes podcast ad placement more accessible by providing more data and insights.
As more data suggests that audiences are increasingly receptive to podcasts, Spotify has upped its advertising game to both deliver and measure ads more effectively on its platform.
Earlier this year Spotify launched Spotify Podcast Ads in Canada and will be launching the Spotify Audience Network, new advertising services on July 1. Powered by Spotify's Streaming Ad Insertion tech, Spotify Podcast Ads deliver and report on confirmed ad impressions, rather than downloads, providing marketers with insights around who heard their ad and how the creative performed.
The launch is supported by a recently released research on the Canadian market commissioned by the company – Peak Openness: Leveraging Digital to Reach People When Most Willing to Consider, in cooperation with IPG's Magna and support from UM – that shows consumers are more receptive to podcast advertising than TV advertising.
According to Spotify, the biggest barriers to podcast advertising are typically an advertiser's inability to effectively target specific audiences with confidence at scale, limited insight and understanding around ad delivery, high CPMs and a lack of self-serve capabilities.
The Spotify Audience Network, launched in the U.S. in April, makes it possible for advertisers to connect with listeners using a broad range of tools including demographic, geographic and audience segment targeting. In addition, Spotify has partnered with Nielsen to add more data and targeting capabilities into the mix.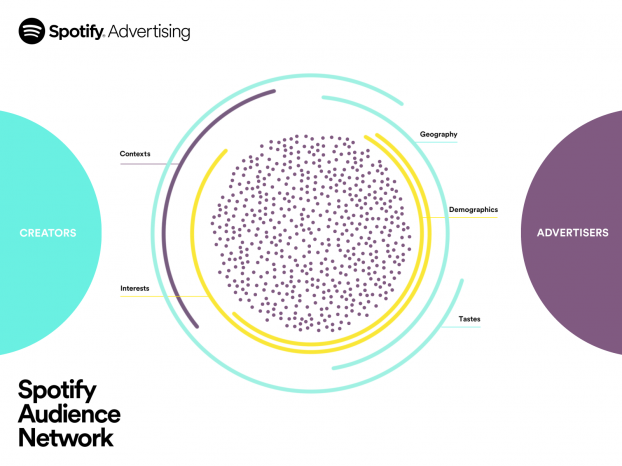 In Canada, Spotify says one in three internet users reported listening to podcasts last year, with a quarter of listeners tuning into an average of three different podcasts each week. Ivan Pehar, Spotify's regional head of sales, Canada, says the new advertising and analytics capabilities can confirm the value of podcast placements for Canadian advertisers. "Streaming Ad Insertion will deliver ads as well as reporting on confirmed ad delivery versus traditional downloads that happen on podcasts. It allows advertisers to have a bit more confidence in terms of reach and frequency on podcasts."