Meanwhile, in Quebec: TV's role in reaching francophones
How Desjardins paid close attention to content, context and culture in order to connect with audiences in la belle province.
"Meanwhile, in Quebec" is the first in an ongoing discussion around the unique use of media in la belle province, with Media in Canada/CARD taking a deeper dive into media plans that moved the needle in Quebec.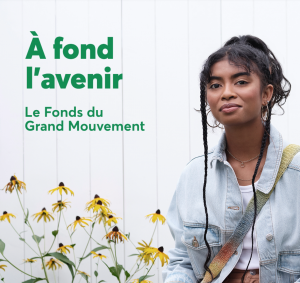 It's no secret that differences in advertising to French Quebec come down to more than language. The cultural and media landscape are very different from English Canada, adding layers of additional considerations in campaign planning, but TV remains one of the best ways to connect with the French-speaking population. Brands like Desjardins are innately aware of this. And while the company is headquartered in Quebec, it also has insurance operations in Ontario, Alberta and Atlantic Canada, as well as wealth management services across the country.
In an effort to boost brand affinity and commitment to regional development and socioeconomic recovery, Desjardins created the Grand Mouvement (GoodSpark) Fund, an initiative committed to investing $250 million by 2024 in projects that support youth, sustainable development and entrepreneurship in its communities in Quebec and Ontario. To be eligible for funding, entrepreneurs and organizations were asked to submit project ideas. Criteria for acceptance included socioeconomic components, how impactful and sustainable the project was, as well as how it could substantially benefit people and communities through clear and documented objectives.
Desjardins cautioned that the funding had to be used to fund a new service offering, not for normal operations or to compensate for funds lost due to a performance gap.
The challenge? Not only build awareness around the fund itself, but encourage candidates to submit their projects.
Marianne Courchesne, media strategy supervisor at Glassroom, Desjardins' media agency, says the financial services company realized that in order to move the brand needle, they had to come to terms with the fact that Quebecers are fundamentally more skeptical of advertising, appreciating when a campaign addresses their values, rather than just trying to sell to them.
The campaign from Glassroom, and Desjardins' creative agency Bleublancrouge Montreal, for Grand Mouvement was founded upon the idea that, tactically, TV is still the best way to connect with the population of Quebec, says Courchesne. Unlike English Canada, where 75% of content is simulcast from the U.S., Courchesne says Quebecers watch programs that are made in Quebec by Quebecers and, more importantly, that are produced for Quebecers.
Glassroom and Bleublancrouge Montreal put together a special televised feature called Et si on se levait (What if we get up), a show hosted by France Beaudoin, a well-known personality in Quebec, accompanied by Pierre-Yves Lord, a host of travel and adventure shows, along with actor and artist Gildor Roy.
It was broadcast on CBC Radio-Canada and on other major Quebec media such as Télé-Québec and La Presse to maximize the strength of each medium to reach Quebecers. Courchesne says Glassroom wanted to maximize its investment in local media, since this was in the DNA of the campaign itself. In fact, more than 80% of the campaign investments were made with local media, including SEM.

During the show, the stars travelled throughout Quebec to visit the locations and people in charge of the nine projects that Desjardins supported with its Grand Mouvement fund. Those experiences involved either a music performance from a renowned artist in Quebec or a gesture to help the organizations gather more visibility, such as billboards, to build more awareness of the project. The projects that were presented in the show were voted as Quebec's favourites and granted additional funding of $100,000 each.
Courchesne says that by creating branded content using local talent, Desjardins was able to build a place in the hearts of Quebecers through deeper, more personal connections with the audiences they were trying to reach. The campaign, which ran from September to December 2020, resulted in Desjardins being the most recognized Financial Group in Quebec, with an increase in its recognition rate in the province by more than 25%.
"When you want to reach Quebec's heart, you need to communicate through its media, content, and star system," Courchesne says. "By speaking more authentically through a messaging strategy that was unique to Quebec, [Desjardins] used the small stage of Quebec to achieve something far more connected than a traditional ad campaign on network TV in English Canada could ever do."
Another thing to consider, says Courchesne, is that cord-cutting is less common among Francophones. "In fact, 75% of Quebec Francophones still subscribe to a paid cable service versus 66% of Anglophones. This offers an exceptional opportunity for brands to partner with the media publishers to build integrated partnerships and content programs that leverage both the environment and even turn to the celebrities to become the brand's voice in Quebec to make deeper, more meaningful connections with audiences."
When you work this way, she says it becomes a very different approach than just buying a 30-second spot. It becomes more about how much you can engage the consumer, rather than a numbers game. (The success of the Grand Mouvement campaign led it to become a finalist in the IDEA 2021 awards, with winners to be announced in September.)
Ultimately, Courchesne says, to build great campaigns in Quebec, the most important thing to be mindful of is the great sensitivity the Quebec consumer has around their identity, which is always in the hearts and mind of people in the province.
"Because of this, the biggest difference in how we build strategy for Quebec versus English Canada is the prioritization we place on authenticity over advertising. If the content and the context doesn't connect to the values of Quebecers – the messaging simply won't be accepted."