Stops, starts, changes: Pattison boosts ads, while Pinterest bans them
Plus many more June media moves from companies Captivate, Apex, theScore, CBC and COMMB.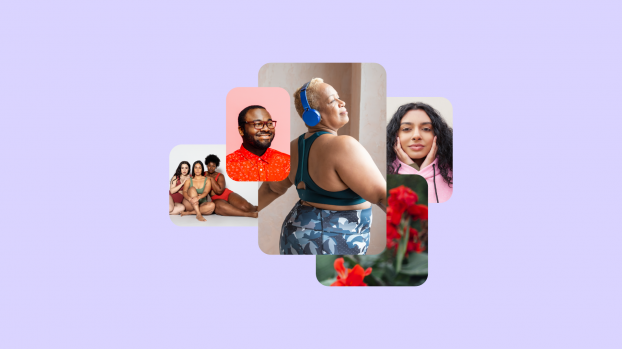 By Mike Connell, Patti Summerfield and Zeenya Shah
Stops
Pinterest removes weight loss ads from platform
Pinterest updated its ad policies to prohibit all ads with weight loss language and imagery.
The move reportedly makes Pinterest the only major social platform to completely ban weight loss ads, expanding on advertising policies that have long prohibited body shaming and dangerous weight loss products or claims.
According to a global statement, Pinterest is a place for inspiration, where everybody belongs, regardless of body shape or size, and the platform is "empowering Pinners to plan for a summer and beyond without weight loss ads, so they can focus on what matters most."
Statistics from the National Eating Disorders Association (NEDA) indicate there's been a steep rise in unhealthy eating habits and eating disorders in young people since the COVID-19 pandemic started last year, and now that pandemic lockdown measures are relaxing, and communities are opening back up, people are reportedly feeling added pressure to lose weight and look their best as they rejoin social circles in person for the first time in 15 months.
The new ad policies won't allow any weight loss language or imagery; testimonials regarding weight loss or weight loss products; language or imagery that idealizes or denigrates certain body types; referencing Body Mass Index (BMI) or similar indexes; and any products that claim weight loss through something worn or applied to the skin.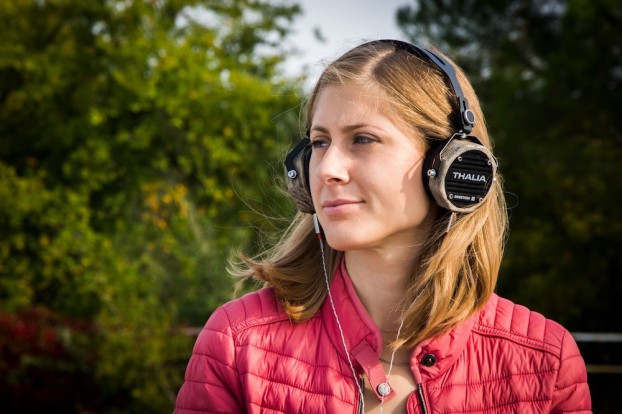 Starts
Pattison adds to its podcast inventory
Pattison Media is investing in podcasts through a partial acquisition of Vancouver-based Everything Podcasts.
Everything Podcasts is a full-service podcast production company, joining Pattison Media's 45 FM and three AM radio stations, three television stations and 17 online news portals. Pattison effected a like-minded deal when it partially acquired digital agency Lift Interactive back in 2019 to help expand its digital offerings.
In addition to layering in branded podcast capabilities to its media mix, Pattison Media's president and CEO, Rod Schween, said the organization is also growing its own library of podcasts, and "having a partner with experience and a focus on this space was what we were looking for as a jumpstart into the podcasting arena."
As far as opportunities for brands, Schween says the new offering will be wide-ranging, including standard branded podcasts showcasing a product a service, to scripted audio series for film, television or publishing. "Everything Podcasts can create a customized audio experience that will deliver from concept to global distribution."
COMMB launches consumer insights tool
The Canadian Out-of-home Marketing and Measurement Bureau (COMMB) launched a monthly report on consumer travel patterns to provide members with insights on OOH inventory.
The new COVID-19 insights report provides a regional overview comparing consumer travel patterns across more than 17 markets, in addition to data on product groups, road types and custom geographic areas. The results represent the movement within COMMB's OTS criteria (opportunity to see, or viewshed, which is the entire geographical line-of-sight area visible from a location) in comparison to the same time period in 2019.
According to the first June 2021 issue of the report – Insights, Growth and Change in OOH – the Eastern provinces and markets have experienced some of the hardest hitting, government-imposed restrictions, but now that restrictions are easing, Eastern Canadians are increasingly stepping out of their homes, into their cars, onto patios, and inside stores.
COMMB's media owner members have access to an interactive COVID Insights dashboard with direct access to insights on their own inventory and the varying changes of consumer activity in the transition to post-pandemic life. The dashboard includes over 10,000 locations across the country, three years of historical data, and will continue to add monthly data throughout 2021.
Captivate adds ski hills to its OOH portfolio
Location-based digital video network Captivate partnered with experiential and media marketing agency Skiron to add skiing and snowboarding audiences to its inventory.
The new offering is called Captivate | Ski, providing advertisers with OOH activations at over 35 ski resorts across Canada. It includes signage in high traffic areas like lift lines, base lodges, cafeterias, bars, hallways, ski rentals and schools, along with onsite activation opportunities during events like Snowfest, Snowjam and Summit.
"As we prepare for ski season, our advertising partners will have access to another valuable audience of affluent, health-conscious consumers in an uncluttered environment," said Barb Huggett, GM at Captivate. "The unique combination of on-hill signage, digital displays, static posters and experiential activations results in high recall and consumer activity."
Skiron Media has the largest ski advertising network in Canada, including resorts like Big White, Lake Louise, Mount St. Louis/Moonstone, Mont St. Sauveur and Massif du Sud. The network includes over 1,300 media displays reaching 78% of the Canadian skier market and representing 13% of the Canadian population (age 12+).
Apex Media brings gaming inventory to advertisers
Apex Mobile Media made a big addition to its gaming inventory by partnering with Bloxbiz, an ad platform that operates within online game Roblox.
The new partnership offers advertisers an opportunity to reach younger audiences by placing ads within Roblox, a global online gaming platform with over 199 million players, roughly 11.5 million of whom are based in the U.S. and Canada.
In-game environments can mimic real life, says Apex Mobile Media's president and co-founder Chris Lombardi. "Within the Roblox platform and in each game there are different opportunities to have ads placed natively in environments that mirror what traditional OOH advertisements would look like, such as billboards, and on vehicles,"
The new partnership not only provides the in-app advertising company with new ad technology, but adds over 15 million of Roblox's gamers to Apex's gaming-focused inventory, which has been a recent area of focus for the company's growth efforts. Apex will be able to report on ad impressions and viewability of its ads within Roblox, even though the ads are static and are non-clickable, and can monitor unique views, user hits, and exposure time.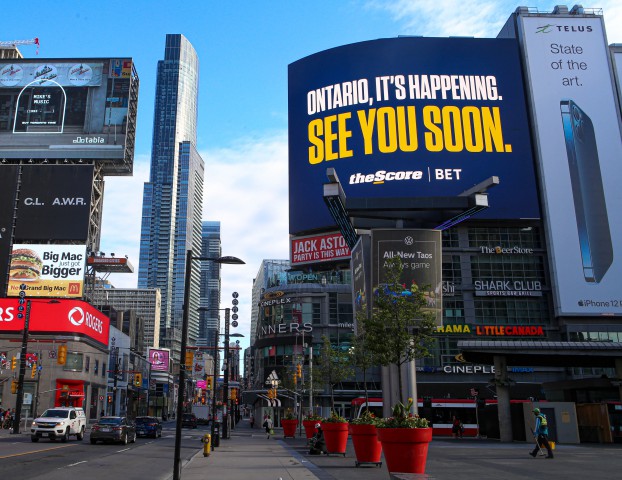 Changes
Single-sport betting legalized in Canada
The Senate recently passed Private Member's Bill C-218, marking the legalization of single-sport betting in Canada.
TheScore responded to the news with out-of-home activations along Toronto's Gardiner Expressway in an attempt to ensure theScore brand is top of mind with sports media audiences and online gamblers.
While the organization's mobile sports media app reaches approximately 3.75 million users in Canada each year, and 1.43 million in Ontario, its mobile sportsbook, theScore Bet, is currently only available in U.S. states where it is permitted (New Jersey, Colorado, Indiana and Iowa). But when Bill C-218 is finalized, the organization will focus on the Ontario market out of the gate.
According to theScore's SVP content and marketing, Aubrey Levy, 50% of theScore's bettors are "ecosystem users," and that they are hoping its current mobile app users will turn into theScore Bet users, which is a more differentiated and integrated experience. The platform has 1.5 times the users of TSN in Canada, and 10 times the users of ESPN (source: ComScore, monthly active users for multi-sport news and data apps in Canada, February 2021).
CBC updates policy to improve DEI in programming
The CBC recently updated its diversity commitment to better reflect Canadian audiences and advance equity, inclusion and representation in the Canadian production industry.
The new policy requires that at least 30% of all key creative roles on new CBC original scripted and unscripted series commissioned from independent producers be held by those who self-identify as Indigenous, Black, a Person of Colour or a person with a disability. Producers of current CBC series will also be required to outline how they will work to increase equity and representation across existing programming.
"Diversity, equity and inclusion is a huge priority for us as at CBC/Radio-Canada, and for our advertising partners as well," said Donald Lizotte, CBC's GM and chief revenue officer. "Over the past year, we have seen an increase in inquiries and RFPs for advertising environments that represent DEI content. As Canada's national public broadcaster, it is our responsibility to reflect all Canadians, and we are pleased to be able to currently offer our advertising partners high-quality, brand-safe content across all our genres that is reflective of modern day Canada. With this recently announced commitment, that content offering will continue to grow."
The initiative builds on CBC/Radio-Canada's announcement last year. The majority of original series on CBC's 2021-22 programming slate reportedly meet the first goal, with many already achieving and, in some cases, exceeding the new 30 percent target, including Coroner, Diggstown, The Porter, Pretty Hard Cases, Run the Burbs and Sort Of.