Pringles aims for lower-funnel audiences
The Kellogg chip brand relied on programmatic DOOH to get in front of shoppers as close to the point-of-purchase as possible.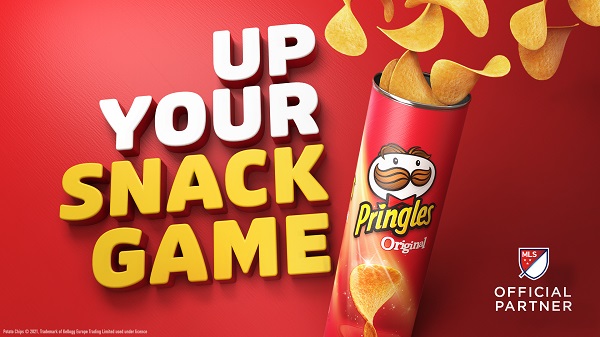 For the second year in a row, Pringles is honing in on sports-related snacking occasions.
But while its latest campaign is in line with previous efforts, this year the brand and its media agency, Starcom, wanted to take the "Up Your Snack Game" messaging and reinforce it on lower funnel channels.
Led by high impact, top-of-funnel channels like TV and OLV, "Up Your Snack Game" – which will run through Q3 – relied on the fact that sports were a strong driver of snacking behaviour. With that in mind, Pringles recently became the official partner of Major League Soccer in Canada, providing national reach and exposure with teams in Montreal, Toronto and Vancouver. The creative for the campaign, developed by Grey Canada, demonstrates the team up: two friends are watching a match. One claps a rudimentary "rally" rhythm on the table, only to be outdone when a third friend introduces himself with marching band-style drums to take the in-game enthusiasm up several notches.
All that said, brand affinity and being top of mind weren't enough this time around. "Chips, in particular, are often on the shopping list, but the brand consumers purchase is usually an impulse decision," Stephany Sousa, Starcom's experience planning director, tells Media in Canada. "Being as close to the point of purchase as possible to make sure that we're reinforcing the brand and keeping ourselves fresh before they pick up a bag was going to be really important."
Programmatic DOOH through Hivestack was key to the activation, Sousa says, using data to target the primary household shoppers via DOOH inventory on their way to their weekly grocery mission.
And while COVID-19 restrictions have eased and more people are going out for their grocery shopping, Sousa says they couldn't ignore the high level of e-comm shoppers across Canada. In line with the DOOH tactics, the key remained getting in front of online shoppers just prior to the point of purchase, so Starcom and Pringles targeted consumers through online flyer platform, Flipp, "and Pinterest for people who are looking for weekend snack ideas or whatever it may be. We just needed to get in front of them as they were in that grocery list mindset."
Channels like TV and OLV still carried the weight of the media investment, with Pringles incorporating more digital tactics including social and online video that will be coming shortly – Pringles is also working with TikTok creators to promote Pringles as the snack of choice when watching sports – Sousa says they did shift budget around to address these new channels and targeting to ensure that the lower-funnel tactics were strongly in play.