Why Onlia added drive-ins to its media mix
The online digital brand made moves based on search insights indicating that Ontarians are keen to visit drive-in theatres this summer.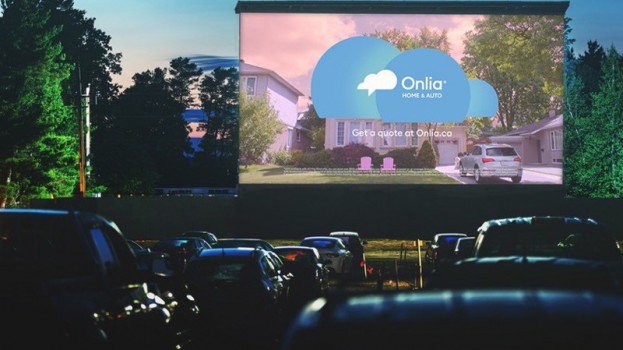 Celebrating the end of lockdowns in Ontario, and betting that people will be getting in their cars to get out more, digital insurance brand Onlia has launched its "Summer Safety Obsessed" campaign, adding drive-in theatre advertising to the mix for the first time.
While relatively inline with past campaigns, this latest evolved through online search insights, where Onlia noticed breakout queries around drive-in locations and searches for "drive-in Ontario." In turn, the company partnered with Premier Theatres, which has drive-in locations in Oakville, London, Hamilton and Newmarket. The campaign also includes a broadcast TV buy, OLV, digital media and paid social.
"It's undoubtable that drive-ins have made a comeback during the pandemic," Julia Stein, digital PR lead for Onlia, tells MiC. "For those who missed the golden age of the drive-in, this is a new experience, and for those who remember, there's a sweet nostalgia of a night under the purple haze of a summer sunset. Staying inside the car enables people to get on the road and enjoy private access to a collective life. Plus, there's a vehicle involved, so that means there's a driver and insurance policy holder somewhere in the mix."
Premier reportedly sees 2,500 cars per night across its drive-in locations. "They are selling out nightly with blockbuster releases all summer long," says Stein. "Tapping in to this audience enables Onlia to deliver our message to a captive audience."
In another first, Onlia is also running a summer-long drive-in contest, using ticket giveaways to build traffic and engagement on its social channels.
Above-the-line, broad awareness tactics are more heavily weighted in this and all Onlia campaigns, with the drive-in investment adding a new layer to the broadcast buy, which still represents the lion's share of the budget.
Strategy and creative were developed by Onlia's internal marketing team and include a new :30 second spot, featuring people keen to get out of the house for the first time in a long while, airing at Premier drive-ins, Ontario-specific TV spots – Rogers, Bell Media and Corus networks – and on YouTube, Facebook and Instagram, with Media Experts handling the media buying.
In February this year, in an effort to build more awareness and reach with Canadians, Onlia announced a partnership with Torstar for a long-term integrated marketing campaign, including custom content collaborations, sponsorships and media activations across all of the publisher's channels.