Cascades launches new branded content campaign for Fluff & Tuff
The seven-month-long campaign includes 14 feature articles on Mamanpourlavie.com.
Cascades has launched a branded content campaign for its Fluff & Tuff brand tissue and paper towels with Quebec-based parenting website Mamanpourlavie.com to raise awareness and resonate with millennial parents.
The seven-month-long campaign – created in collaboration between Sid Lee, Fuel Digital Media and Mamanpourlavie.com – focuses on product strength and softness in addition to preservation of the environment.
Fourteen feature articles have been created to guide millennial parents toward adopting simple habits that have a positive ecological impact with tips that include reducing food waste, turning something old into something new, planning an eco-friendly picnic and introducing kids to composting.
Alain Léveillé, director of marketing and content Solutions for Fuel Digital Media, says the strategy was to provide support and useful advice to parents through the voice of a legitimate media partner with expertise on parenting and the education of young children. "Young millennial families are concerned about the environment and are always seeking for ways and habits that will have a positive impact on the planet and that they can easily teach and enforce with their kids. In that context, Mamanpourlavie.com was perfect match."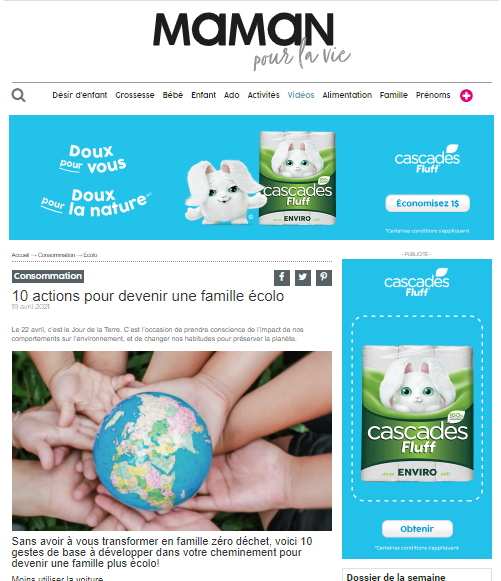 The campaign is currently live on Mamanpourlavie.com and four family profiles will also be posted at regular intervals on the French-language Cascades Fluff & Tuff blog.
Mamanpourlavie.com users are moms between 25 and 44 years old, most with two children in their family. The website reaches 600,000 monthly unique visitors generating over three million monthly pages views. Every Cascades article is also posted on the Mamanpourlavie's Facebook page, which has over 280,000 fans.