Vistar's recent funding fuels DOOH accessibility
A $30 million raise is positioned to further develop software and tech.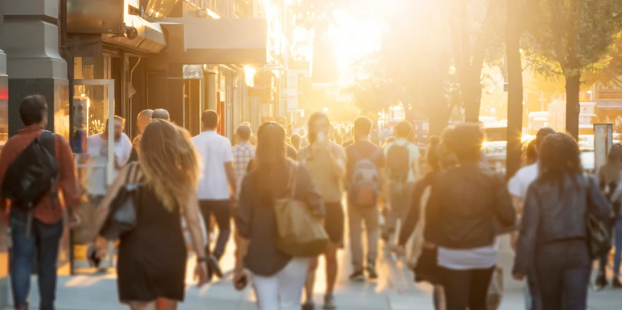 Earlier this week, Vistar Media announced that it has raised $30 million in a Series B funding round with Lamar Advertising Company, capital that will be used to develop technology and software solutions for both media owners and buyers, as well as fuel hiring across sales and support functions in Canada.
Part of the purpose behind the raise is to double down on SaaS development specific to helping media owners connect their inventory to the programmatic marketplace, says Leslie Lee, Vistar's VP of marketing in New York. "Globally, there's a rise in new types of screens and networks popping up," she explains, pointing to brands like Volta Charging (pictured below), which develops electric vehicle charging stations. The nature of the product makes Volta a new entrant in the digital screen market, but because it doesn't think of, or position itself as, a video property, it doesn't have the tools to operate and integrate their growing inventory of screens as part of a programmatic DOOH network.

Vistar's SaaS software is positioned to enable any organization to more effectively monetize their screen inventory potential, whether that's a retailer or like-minded operation with heavy traffic.
With further onboarding of media owner digital assets onto the programmatic marketplace and expansion of SaaS products to enable newer signage networks to participate, Lee estimates that Vistar's available inventory in Canada will grow roughly by 15%.
"We are also going to be going deeper into revenue management tools on both the buy- and SSP-side," says Scott Mitchell, Vistar's MD in Canada. "That and more software for media owners," he adds, noting that the "process of optimizing yield and balancing pricing across multiple business lines is very complicated, so we'll be working to build tools that solve for that."
Ultimately, with increased demand from buyers and the rollout of these revenue management tools for media owners, Lee says Vistar expects CPMs for DOOH to rise. Omnichannel DSPs – like Verizon or Amobee – are already beginning to transact in Canada, Lee adds, and expects this to rapidly increase over the coming months.
"It's fairly recent that most omnichannel DSPs have built out any offering for OOH into their platforms," she adds. "But now many are leaning in and beginning to actively incorporate OOH into their media mix plans for clients. There are many brands that prefer or have a mandate to run all programmatic spend through a dedicated omnichannel platform, so we expect these to now be able to increase investment in the space as DSPs ramp up their offerings."
As an industry, "we've made a lot of strides in making out-of-home very easy to invest in," Lee says. "But there still are some hurdles that keep it separate from true omnichannel marketing," she notes, pointing to table stakes in other digital channels, like dynamic creative, that aren't available in DOOH at scale.
Dynamic creative for DOOH is specifically an area Vistar is focusing on in its DSP capabilities and offering, ultimately adding the ability to run ad creative that can be dynamically updated based on a specific audience that needs to be targeted, or triggers based on a variety of factors, whether that's based on a sports score, time of day or weather. Mitchell points to a dynamic countdown clock in a retail activation by way of example, where the retailer may want to adjust creative based on an impending sale.
Hiring is also an area of focus, with engineering at the forefront, globally, and sales and client support emphasized here in Canada, says Mitchell, and likely more to align with further growth in the second half of 2021 and into 2022.