Publishing heavyweight Future is opening a Canadian division
The owner of 160 titles, including Marie Claire, Guitar Player and Tom's Guide, is looking to provide more opportunities for local brands in response to high Canadian readership.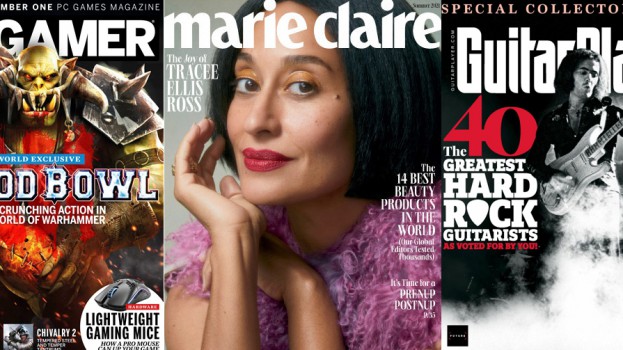 British media holding company Future PLC is launching a Canadian division, promising to add more local content, products and entities to its offerings from 160 titles.
Based out of Toronto, Future Canada will be lead by William Cormier, who has previously been VP of sales for Amobee Canada, Canadian country director for Rocket Fuel and direct of digital sales for TC Media. It is building a sales team as it scales and grows opportunities.
Founded in 1985, Future initially focused on publishing gaming and technology-focused publications, including the official magazines for Sony, Microsoft and Nintendo consoles, before expanding into music. After downsizing in the early 2010s, Future began a series of digital and print acquisitions, including those in other, consumer product-focused categories. Today, its 160 titles include Guitar Player, PC Gamer, Tom's Guide, Cinema Blend, Homes & Gardens and – after an acquisition this spring – Marie Claire.
"We've seen an explosion in our traffic across all of our sites, particularly in Canada," says Jason Webby, Future PLC's chief revenue officer in North America, with a lot of people working from home, and buying products and services, particularly in tech. According to ComScore data, Future publications earn 11 million unique monthly users in Canada.
Opening a Toronto office is meant to capitalize on that traffic, creating more Canadian content to maximize its potential to work with advertiser and ad agencies to leverage its power, as well as get the word out about Future among advertisers. it will also leverage its proprietary ecommerce platform HAWK to double down on buyers guides that dynamically update to show local shopping options where featured products are available for Canadian consumers.
While the Canadian division will be focused on the digital presence, instead of launching local print versions, the online content it curates and the audience it's been drawing, Webby says, is hitting a "sweet spot" with high levels of ecommerce platform engagement.
Given that the common thread between its titles is a focus on products for a wide range of interests, Webby says Future PLC tends to draw high-intent readers with "best of" buying guides and editorials, which help with purchase decisions. And according to Future, it already programs a fair bit of Canada specific content across the verticals, such as comparing Canadian iPhone carriers and the best Canada Day deals.
Webby tells MiC that the company has a robust creative solutions team and a division called Future Studios that shoots video and has multimedia capabilities. According to Webby, it has a "massive" affiliate program and in-house tech staff, which enables Future to place affiliate links to buy products it reviews on the site. In North America, it drove just under $1 billion in affiliate purchasing in last twelve months.
Future is engaging with Broadsheet, its PR firm, and it's working to build the brand both in the U.S. and in Canada.