IGA acquires majority stake in Ricardo Media
The two companies are building on 20 years of collaboration, with goals of providing innovation, enhanced experiences to consumers.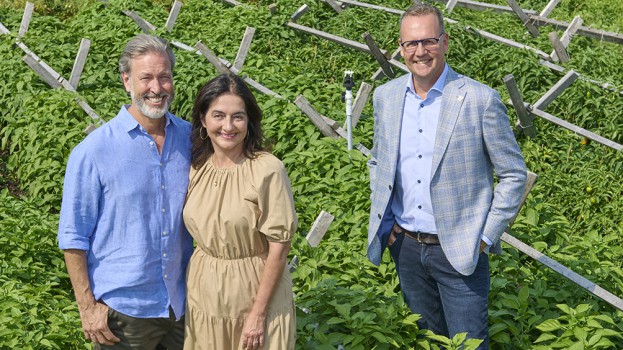 Sobeys' Quebec banner IGA has invested in a majority stake in Ricardo Media and its various business lines, including its magazine, TV shows, online properties, books, stores, restaurants and food.
The exact size of the stake and how much IGA paid for it was not disclosed. Ricardo Media will continue to operate as usual, with co-founders Ricardo Larrivée and Brigitte Coutu (pictured above with Sobeys EVP and COO Pierre St-Laurent) remaining in their respective leadership positions. The new partnership will also have no impact on employees.
Though details are still scarce, the partnership is mean to "provide consumers with an enhanced experience," according to a joint statement from the two companies, and both companies plan to work together to develop "innovative solutions that foster the joy of cooking and eating together." Mireille Thibodeau, VP of merchandising for Sobeys and IGA, said the acquisition was another example of IGA supporting local Quebec businesses and partnering with local food entrepreneurs to support their growth.
The new partnership also aims to build on a 20-year working relationship that has included things like the integration of Ricardo recipes on the IGA website, as well as Ricardo-branded food products and magazine in IGA stores.
Quebec-based Ricardo Media – a strategy Brand of the Year in 2018 – was founded in 2002. The brand's media properties include a magazine read by one million readers, a daily television program, ten books published in French and English and a website that generates 5.4 million visits a month. In 2011, the company launched kitchen accessories that are now sold at 600 outlets across Canada.
Retail is becoming a strong new pillar of the company. Starting in 2014, three shops and three restaurants are now grouped together under the Ricardo Boutique + Café name, as well as an online store. Ricardo-branded food products have been available in IGA supermarkets in Quebec since 2018.