Private Eyes gets back on top: Numeris
Meanwhile, reality TV continues to be a strong performer for summer viewers.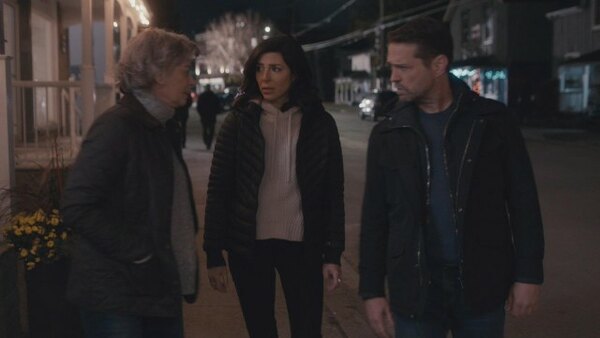 With only one more episode of Private Eyes left to air, Canadians are tuning in to see how the show ends, according to Numeris data for the week of Aug. 9 to 15.
As Global's comedy-drama prepares to air its series finale this week, the third-to-last Aug. 12 episode took the top spot nationally with nearly 1.2 million viewers. It also took the top spot in Calgary and was near the top in Edmonton and Vancouver/Victoria.
Fantasy Island also performed well nationally for Global, taking the number two spot.
Elsewhere, reality television continued to perform well with summer TV viewers. While the thrice-weekly episodes of Big Brother have slipped slightly from their top spots in the ratings, the show still managed to land in the top five nationally, as well as in Toronto. America's Got Talent was the week's big reality performer, landing in third nationally and taking the top spot in Toronto/Hamilton, Montreal and Vancouver/Victoria.
In Quebec, Francophone viewers continued to place TVA's Hôpital New Amsterdam and S.W.A.T. at the top of the ratings.
National
1. Private Eyes on Global Thursday at 9 p.m.: 1.178 million
2. Fantasy Island on Global Tuesday at 9 p.m.: 1.133 million
3. America's Got Talent on Citytv Tuesday at 8 p.m.: 1.131 million
4. Big Brother on Global Wednesday at 8 p.m.: 957,000
5. Big Brother on Global Sunday at 8 p.m.: 955,000
Quebec (Francophone)
1. Hôpital New Amsterdam on TVA Tuesday at 8 p.m.: 694,000
2. S.W.A.T. on TVA Wednesday at 8 p.m.: 544,000
3. Fous du bbq on TVA Monday at 7 p.m.: 539,000
4. Chicago Fire: Caserne 51 on TVA Monday at 8 p.m.: 520,000
5. L'ereure est humaine – Laurent Paquin on TVA Wednesday at 9 p.m.: 516,000
Toronto/Hamilton
1. America's Got Talent on Citytv Tuesday at 8 p.m.: 311,000
2. Big Brother on Global Sunday at 8 p.m.: 246,000
3. America's Got Talent on Citytv Wednesday at 8 p.m.: 238,000
4. Big Brother on Global Wednesday at 8 p.m.: 237,000
5. The Bachelorette on Citytv Monday at 8 p.m.: 229,000
Montreal
1. America's Got Talent on Citytv Tuesday at 8 p.m.: 48,000
2. Coronation Street on CBC Friday at 7:30 p.m.: 35,000
3. Fantasy Island on Global Tuesday at 9 p.m.: 34,000
3. America's Got Talent on Citytv Wednesday at 8 p.m.: 34,000
3. Love Island on CTV Sunday at  9 p.m.: 34,000
Calgary
1. Private Eyes on Global Thursday at 10 p.m.: 80,000
2. Fantasy Island on Global Tuesday at 10 p.m.: 59,000
3. Masterchef on CTV Wednesday at 9 p.m.: 46,000
4. America's Got Talent on Citytv Tuesday at 9 p.m.: 38,000
5. American Ninja Warrior on CTV Monday at 9 p.m.: 35,000
Edmonton
1. Fantasy Island on Global Tuesday at 10 p.m.: 67,000
2. America's Got Talent on Citytv Tuesday at 9 p.m.: 55,000
3. Private Eyes on Global Thursday at 10 p.m.: 50,000
4. Alone on History Thursday at 10 p.m.: 46,000
5. Border Security on Global Friday at 8 p.m.: 40,000
5. Superman & Lois on CTV Friday at 9 p.m.: 40,000
Vancouver/Victoria
1. America's Got Talent on Citytv Tuesday at 8 p.m.: 174,000
2. Private Eyes on Global Thursday at 9 p.m.: 136,000
3. 60 Minutes at Global Sunday at 7 p.m.: 134,000
4. Masterchef on CTV Wednesday at 8 p.m.: 125,000
5. America's Got Talent on Citytv Wednesday at 8 p.m.: 109,000