Private Eyes holds on to top spot: Numeris
But America's Got Talent was the highest-rated show in most individual markets.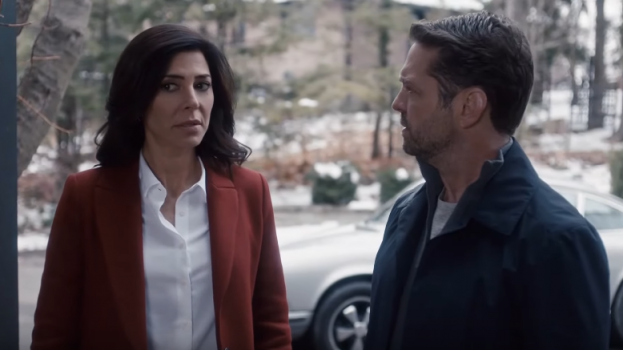 Private Eyes is pulling in viewers as it approaches its series finale, according to Numeris data for the week of Aug. 16 to 22, but the summer's big reality competition shows are hot on its heels.
The penultimate episode of Global's comedy-drama brought in 1.119 million viewers nationally. However, it was only slightly ahead of the Tuesday broadcast of America's Got Talent, at 1.113 million viewers, with the second new episode on Wednesday pulling in just under 1 million, good for fourth. Big Brother took the number three spot, slipping slightly following weeks of being a top performer.
Market-by-market, while Private Eyes topped the ratings in Calgary, one of the two AGT episodes was at the top of every other English-speaking city.
In Quebec, cooking show Fous du bbq jumped to the top of the Francophone ratings, followed by consistently strong performer S.W.A.T.
National
1. Private Eyes on Global Thursday at 9 p.m.: 1.119 million
2. America's Got Talent on Citytv Tuesday at 8 p.m.: 1.113 million
3. Big Brother on Global Wednesday at 8 p.m.: 1.069 million
4. America's Got Talent on Citytv Wednesday at 8 p.m.: 999,000
5. Fantasy Island on Global Tuesday at 9 p.m.: 954,000
Quebec (Francophone)
1. Fous du bbq on TVA Monday at 7 p.m.: 528,000
2. S.W.A.T on TVA Wednesday at 8 p.m.: 524,000
3. Un zoo pas comme les autres on TVA Tuesday at 7 p.m.: 523,000
4. La belle tournée on TVA Monday at 9 p.m.: 506,000
5. L'épicerie on CBC Wednesday at 7:30 p.m.: 485,000
Toronto/Hamilton
1. America's Got Talent on Citytv Tuesday at 8 p.m.: 258,000
2. America's Got Talent on Citytv Wednesday at 8 p.m.: 238,000
3. Private Eyes on Global Thursday at 9 p.m.: 227,000
4. Big Brother on Global Wednesday at 8 p.m.: 225,000
5. Bachelor in Paradise on Citytv Monday at 8 p.m.: 212,000
Montreal
1. America's Got Talent on Citytv Tuesday at 8 p.m.: 42,000
1. America's Got Talent on Citytv Wednesday at 8 p.m.: 42,000
3. The $100,000 Pyramid on CTV Wednesday at 9 p.m.: 39,000
4. Coronation Street on CBC Friday at 5:30 p.m.: 34,000
5. Wipeout on CTV Sunday at 7 p.m.: 33,000
Calgary
1. Private Eyes on Global Thursday at 10 p.m.: 79,000
2. America's Got Talent on Citytv Wednesday at 9 p.m.: 53,000
2. America's Got Talent on Citytv Tuesday at 9 p.m.: 53,000
4. Fantasy Island on Global Tuesday at 10 p.m.: 50,000
5. Brooklyn Nine-Nine on Citytv Thursday at 9 p.m.: 41,000
Edmonton
1. America's Got Talent on Citytv Wednesday at 9 p.m.: 59,000
1. American Ninja Warrior on CTV Monday at 9 p.m.: 59,000
3. America's Got Talent on Citytv Tuesday at 9 p.m.: 58,000
4. Deadliest Catch on Discovery Tuesday at 10 p.m.: 56,000
5. NCIS: Los Angeles (Encore) on Global Monday at 9 p.m.: 50,000
Vancouver/Victoria
1. America's Got Talent on Citytv Tuesday at 8 p.m.: 179,000
2. 60 Minutes on Global Sunday at 7 p.m.: 153,000
3. Private Eyes on Global Thursday at 9 p.m.: 120,000
4. America's Got Talent on Citytv Wednesday at 8 p.m.: 118,000
5. The $100,000 Pyramid on CTV Wednesday at 9 p.m.: 109,000