La Presse helps Volkswagen drive a new launch
A branded content push behind the new Taos SUV included a five-video series that used the publishers data to target adventure-seekers.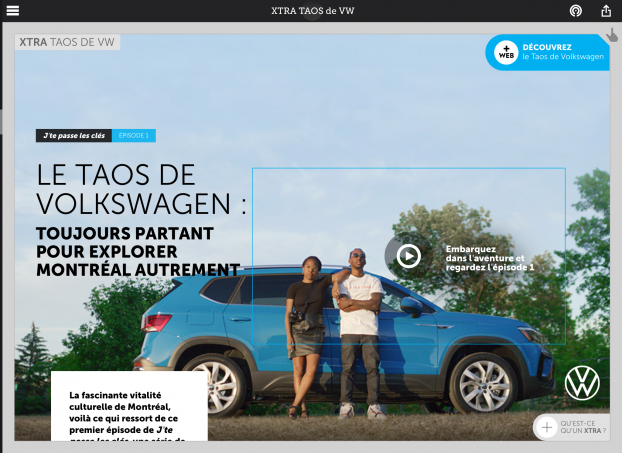 Volkswagen Canada put its trust in La Presse to handle the launch of the Taos, what the automaker called its most important launch of the year.
The branded content initiative – "Giving You the Keys" – is a video series that follows drivers from Montreal to Charlevoix on an adventure behind the wheel of the Taos, passing the keys of the vehicle to another at the end of each episode.
Lynne Piette, director of Marketing at Volkswagen Canada, says to drive awareness of the launch of the new 2022 model of the compact SUV a mass audience, the campaign focuses on an audience of travel and adventure seekers.
"The quality of composition of the La Presse audience made it the perfect fit. Through a branded content video series, La Presse was able to put the Taos at the very centre of each story while conveying the features and benefits in an entertaining and organic way."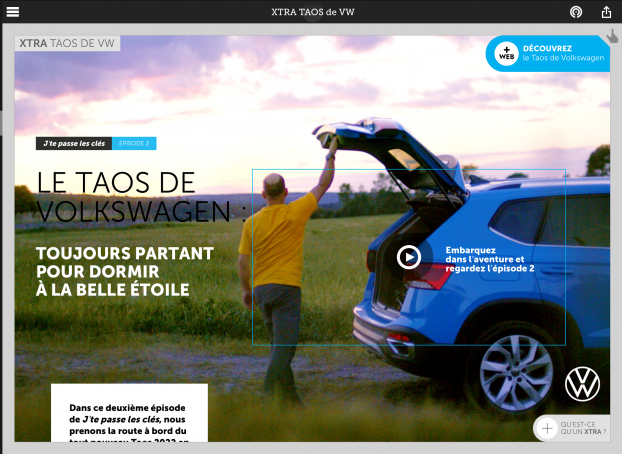 Studio XTRA La Presse created the series of five videos, produced as three-minute capsules broadcast exclusively in La Presse. A short version would play on opening of the La Presse+ app, with the long version available within an XTRA branded content section of that issue.
La Presse provided contextual alignment by publishing the XTRA stories in the Voyages travel section, as well as  the ability to target a custom audience segment comprised of travel intenders and adventure seekers, using its first-party data strategy. The campaign also included a seven-screen VW Taos digital magazine, grouping all of the content pieces together and offering readers more opportunities to engage with this campaign.
VW's media agency Touché! and creative agency Taxi supported the campaign. The Studio XTRA La Presse produces more than 800 branded content campaigns a year.