Quebecor debuts consolidated content platform
The ad-supported QUB brings video, news and audio content from across the company's properties to a single source.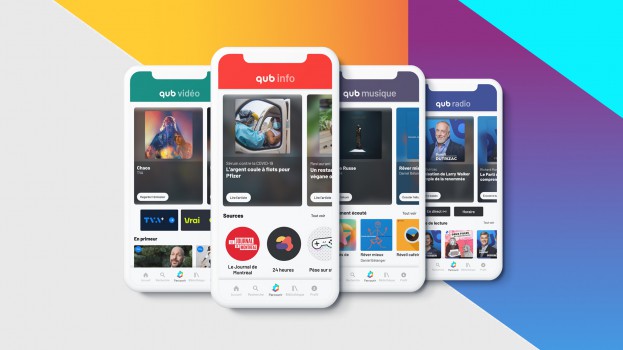 It's been three years in the making, but Quebecor has finally unveiled QUB, a digital platform that makes all of the company's news and entertainment offerings available in one place.
QUB is available on the web and via a mobile app and includes content from more than 50 Quebecor sources and media outlets, including video and radio clips, music playlists, podcast suggestions and a large selection of articles. Quebecor's media brands include TVA, Vrai, Moi et Ce, LCN, NumériQ, Yoopa, 24 heures, Le Journal de Montréal and Le Journal de Québec.
Designed and developed by Quebecor's NumeriQ team, content is organized into four main sections: news, video, music and radio. QUB users also have the ability to personalize content according to their interests.
Mathieu Turbide, VP of digital content at Quebecor, says new platforms like TVA+, Vrai and QUB musique – launched in response to audience trends and demand – were always intended to be brought into a single source. QUB, which is the result of a three year undertaking, is part of a strategic plan to have all of the content Quebecor has to offer in a "user-friendly, modern, accessible interface," and will be the flagship of the company's digital content going forward.
The majority of the content is free and ad-supported, with the exception of the QUB musique music streaming platform and Vrai, Videotron's new subscription service dedicated to exclusive unscripted specialty content.