TVA's Masked Singer adaptation tops the ratings: Numeris
Three French shows out-performed the Emmys and the America's Got Talent finale.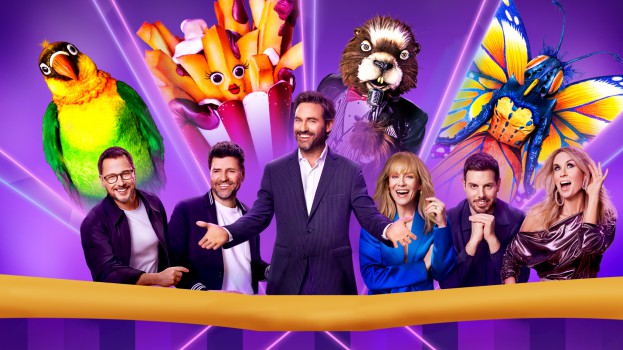 It seems French series and season premieres are more popular than English finales and award shows, according to Numeris data for the week of Sept. 13 to 19.
In Quebec, the premiere of TVA's Masked Singer adaptation Chanteurs masqués was not only the most-watched French program of the week, but its 1.554 million viewers also out-performed the top-rated English programs nationally.
The top-performing English broadcast was the second-to-last episode of America's Got Talent's sixteenth season, which featured the performances from this year's finalists and brought in 1.293 million viewers; the finale, which aired the following night and revealed the winner, brought in 1.209 million viewers. This year's Emmys broadcast was sandwiched in between them with 1.249 million viewers.
The rest of the top three French programs of the week also managed to out-perform the top English shows. The third season premiere of TVA's dance show Revolution – which aired following Chanteurs masqués – brought in 1.371 million viewers, while the fourth season premiere of Radio-Canada comedy Discussions avec mes parents brought in 1.325 million. In fact, the top twelve single-night French broadcasts of the week brought in more than a million viewers each.
Regionally, the Emmys topped the ratings in Toronto/Hamilton and Montreal, while America's Got Talent was at the top in Vancouver/Victoria.
National (Anglophone)
1. America's Got Talent on Citytv Tuesday at 8 p.m.: 1.293 million
2. 2021 Emmys on CTV Sunday at 8 p.m.: 1.249 million
3. America's Got Talent on Citytv Wednesday at 9 p.m.: 1.209 million
4. CTV Evening News Weekend on CTV Saturday at 6 p.m.: 1.032 million
5. NFL Football (Late Game) on CTV Sunday at 4:23 p.m.: 937,000
Quebec (Francophone)
1. Chanteurs masqués on TVA Sunday at 6:30 p.m.: 1.554 million
2. Revolution on TVA Sunday at 7:30 p.m.: 1.371 million
3. Discussions avec mes parents on SRC Monday at 7:30 p.m.: 1.325 million
4. Infoman on SRC Thursday at 7:30 p.m.: 1.141 million
5. En direct de l'univers on SRC Saturday at 7 p.m.: 1.117 million
Toronto/Hamilton
1. 2021 Emmys on CTV Sunday at 8 p.m.: 384,000
2. America's Got Talent on Citytv Tuesday at 8 p.m.: 381,000
3. America's Got Talent on Citytv Wednesday at 9 p.m.: 330,000
4. Big Brother on Global Wednesday at 8 p.m.: 258,000
5. Big Brother on Global Friday at 8 p.m.: 227,000
Montreal (Anglophone)
1. 2021 Emmys on CTV Sunday at 8 p.m.: 71,000
2. CTV Evening News Weekend on CTV Saturday at 6 p.m.: 56,000
3. America's Got Talent on Citytv Tuesday at 8 p.m.: 50,000
4. America's Got Talent on Citytv Wednesday at 9 p.m.: 36,000
5. Coronation Street on CBC Friday at 7:30 p.m.: 34,000
Calgary
1. CTV Evening News Weekend on CTV Saturday at 6 p.m.: 69,000
2. Family Law on Global Thursday at 8 p.m.: 65,000
3. 2021 Emmys on CTV Sunday at 6 p.m.: 64,000
4. America's Got Talent on Citytv Tuesday at 9 p.m.: 56,000
5. NFL Football (Primetime) on TSN Sunday 8:20 p.m.: 53,000
Edmonton
1. CTV Evening News Weekend on CTV Saturday at 6 p.m.: 64,000
2. Global News Morning on Global Saturday at 7 a.m.: 59,000
3. Movie on Global Sunday at 7 p.m.: 57,000
4. Global News Morning on Global Sunday at 7 a.m.: 55,000
4. The West Block on Global Sunday at 10 a.m.: 55,000
Vancouver/Victoria
1. America's Got Talent on Citytv Wednesday at 9 p.m.: 187,000
2. America's Got Talent on Citytv Tuesday at 8 p.m.: 180,000
3. NFL Football (Late game) on CTV Sunday at 4:53 p.m.: 149,000
4. 2021 Emmys on CTV Sunday at 5 p.m.: 136,000
5. Masterchef on CTV Wednesday at 8 p.m.: 97,000