How agencies are retaining (and attracting) new talent
Improving the industry's visibility, helping staff find their strengths and being proactive about a healthy culture are among the priorities for executives.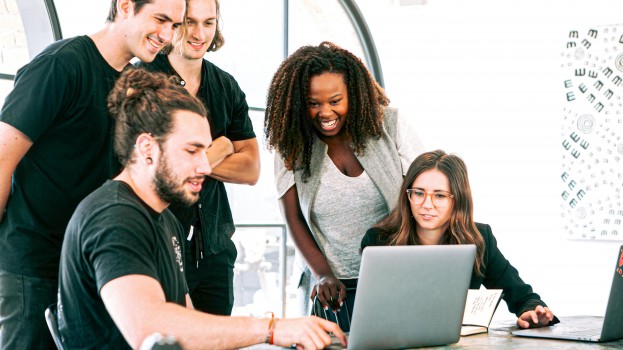 Media agencies have not been immune to talent turnover being seen across industries.
Carolyn Meacher, chief people officer at Dentsu Canada, says that, back in February, the agency had not anticipated that the high rates of attrition beginning to be seen in the industry would become the new normal – but they have.
"What we have learned is that people are increasingly leaving for personal reasons," says Meacher. "This is a fundamental shift and has required us to go even deeper in understanding our employees' experience at work so that we can provide meaningful work experiences where people can do their best work and thrive. We know that the way that managers lead can have a significant impact on the quality of work experience and ultimately on whether they entertain leaving or not."
According to Gallup, managers account for 70% of variance in employee engagement – so, Meacher says, it's important to have great managers. One of the key pillars of Dentsu's retention strategy is to provide its people with what they need to be great managers, starting from fundamentals such as critical social and emotional leadership skills.
Among the new programs Dentsu is putting in place is Strengthfinder training. Rolling out next year, it is designed help employees discover and lean into their strengths to achieve greater performance and success. The agency has also introduced several initiatives to help people balance their work and personal lives. It has increased "Dentsu days" where the whole agency is off to give everyone a real break from the office. In addition, the broader Dentsu network has just rolled out a new digitally accessed Employee Assistance Program to help address issues impacting health and well-being.
But part of the issue agencies are facing is not just retention, but recruitment, especially for younger talent who are less familiar with a company's reputation. Meacher says Dentsu is also piloting mentorship programs to partner people with champions who can help them advance in their career. "In 2022, we expect to have more interns across all the lines of business to give young people the opportunity to experiment in the business and to introduce us to a diverse group of new young thinkers and creators."
One issue unique to media agencies are their lack of visibility among would-be recruits, leading to a lack of consideration from talented applicants.
"There really is a gap with media from an agency perspective," says Alastair Taylor, CEO of Publicis Media. "When people think of advertising, they think of the people that draw the pictures. They think of Don Draper. It's a problem for media agencies."
One program that had results in attracting new talent into the media industry is The M2T Collective Rotation Program. A collaborative effort between Publicis agency Starcom, EQ Works, LinkedIn and Starbucks, the two- year-long paid internship gives graduate students the opportunity to experience four different companies within the marketing, media and technology spaces. Now preparing for its fourth group of candidates, applications for the 2022-to-2024 cohort open in December.
Taylor says the idea behind the program was to make the media industry more visible and attractive to young talent.
"When we go on the roadshows to universities, most of them don't know who we are, but they know LinkedIn and Starbucks. Those are the draws that bring them in, and that's when they start to ask questions, such as 'how have I not heard about Starcom or Zenith when they employ 20,000-plus people across the world?'"
Taylor says while on their rotation with the agency, interns have historically been working on the Disney business with the Disney Parks and Disney product teams, helping to create plans and strategies.
"It's definitely not a passenger role," he says. "You're given tangible projects to deliver and work against. Something they can start, finish and end. We don't want to be giving them roles where it's a chance just to see what it's like. This is a chance to do it, actually get your hands dirty."
All of the program participants thus far have ended up with jobs at M2T Collective companies, but also ones like Biosteel and EyeReturn. The M2T Collective is now looking for ways to expand and bring more media, marketing and technology companies into the program to provide even more bright young talent with the opportunity to experience all sides of the industry.
Horizon Media was recently named among Canada's "Best Workplaces for Today's Youth" by Fortune magazine. Kevin Kivi, the agency's EVP, has been active over the years in mentorship programs, such as ones at Sheridan College's Pilon School of Business, providing guidance and guest lectures to their media, digital and advertising programs.
"Building a company culture has never been more challenging with employees working remotely, without personal contact with their leaders and peers," he says. "Thankfully, we have not had a retention crisis this year the way that many agencies have had. That's simply because we speak straight, we make ourselves accessible and we dive in to support everyone at all levels. That said, we have not needed a formal mentoring program. We have a buddy system, but that is less formal."
Some of Horizon's practices include regular coffee breaks, afternoon quizzes over beverages, and establishing movie and book clubs – all with the goal of supporting employees, making them feel connected to each other and their leaders, with the ultimate goal of keeping its tight knit group feeling united.
Kivi says the answer is not how Horizon Media is being reactive, but more that it has taken a proactive approach to leadership, people management and culture from the very beginning.
"We have now grown our headcount by 33% in the past 15 months," he says. "Are we looking at talent differently? Yes. Are we hiring from different backgrounds and skillsets? Yes. However, we're not doing it because we are reacting to a trend or something new, we're thinking differently because we're growing and scaling the business."