Oh Henry! looks to build relevancy and a younger audience on Twitch
The confectionery is incentivizing gamers with Bits redemptions, the platform's de facto currency.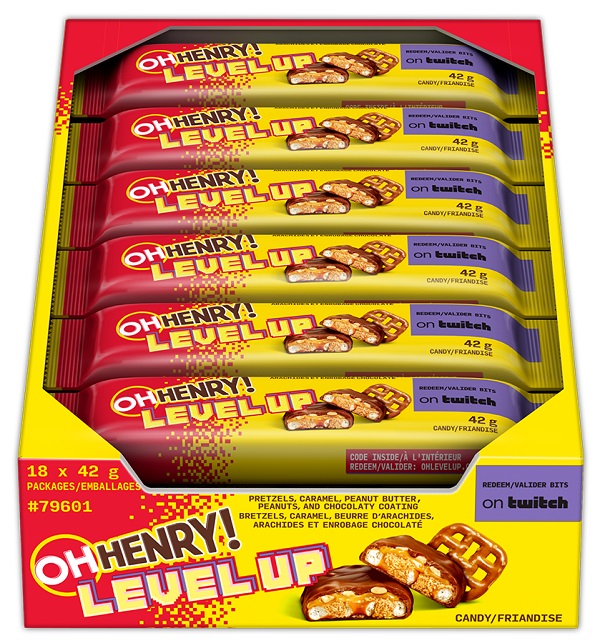 Hershey brand Oh Henry! once again wants to be the go-to snack for gamers, linking up with livestreaming service Twitch.
The confectionery launched its pretzel and nut Level Up chocolate bar last year unabashedly aimed at the demo, part of the brand's longstanding positioning around the idea of owning "hunger."
With the prevalence of gaming and esports, it was a natural evolution for Oh Henry! to offer a satiating snacking solution to fuel the gaming experience and break through to a younger audience, says Kaetlyn Graham, senior marketing manager at The Hershey Company.
Since Twitch reaches a highly engaged target and enables on-pack branding and video advertising, the partnership just made sense, she adds.
"We have seen tremendous success across the funnel from a brand lift perspective with previous Oh Henry! campaigns on Twitch," Graham says, adding that it wanted to build on work it did with Twitch influencers last year by integrating directly within the platform to take the experience further.
With every purchase of an Oh Henry! Level Up bar, consumers can receive Bits, a virtual currency that's used by Twitch viewers to support streamers and get access to special features on the platform.

When it comes to the Level Up launch, Graham says the confectionery learned that gamers "crave authentic, interactive moments that enhance their gaming experience," and that the bar has been a tremendous hit with its core demo, surpassing targets.
"This collaboration with Twitch allows us to further integrate the Oh Henry! brand into the Twitch community with a proposition that feels not only authentic for the brand personality but also relevant for consumers," she says.
In 2020, the brand came to life through a gaming-connected Circle K shopper execution, with special promo codes inside each Level Up wrapper to get in-game rewards in the game, NBA 2K21.
And while there are in-store assets again this year, as well and prominent purple on-pack redemption callouts, Graham says the Twitch collaboration enables further integration of Oh Henry! into the digital space.
UM developed the media strategy and lead the partnership with Twitch.  Anomaly produced the creative.