Radio-Canada wants English advertisers to be part of Bye Bye's ad contest
With 4.66 million viewers last year, Bye Bye de la pub has become a phenomenon with audiences and advertisers in Quebec.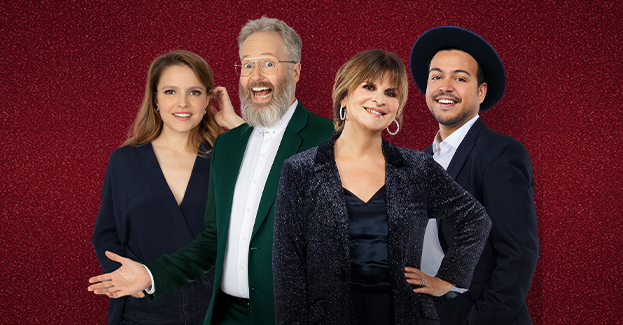 For millions of viewers in Quebec, there's only one place to be on Dec. 31: in front of a TV ringing in the new year with the comedic year-in-review show Bye Bye 2021.
The long-running sketch comedy show, which satirizes the year's biggest cultural, social and political moments, regularly pulls in millions of viewers and is an opportunity for advertisers to reach the French-language market's biggest audience of the year and show off their best work.
Now in its fourth year, Radio-Canada's advertising competition Bye Bye de la pub, continues to be a big hit with advertisers who are challenged to submit original and engaging commercials to be awarded top prizes by viewers who vote online starting Jan., 1. Winners will be announced on Jan. 10, with first place awarded a $75,000 media campaign with Radio-Canada, and second and third place winners receiving $50,000 and $25,000 campaigns, respectively.
First launched in 2018, the idea for the competition came from a collaboration with Maxime Paiement, creative director at Sid Lee. Patricia Châteauneuf, general manager of multiplatform sales, Montreal and Eastern Canada for CBC & Radio-Canada Solutions Média compares the annual Bye Bye to Quebec's version of the Super Bowl, both in terms of audience and opportunities for advertisers.
"We thought why not take advantage of it and mobilize our advertisers in a creative competition to showcase their talent in front of the biggest audience of the year," she says.
The competition has grown in popularity both with advertisers and the voting public. This year, 18 advertisers submitted custom campaigns created for the Bye Bye show, up from 10 that created original campaigns for the competition in 2018. Châteauneuf says voting numbers continue to increase each year as well. In 2018, a total of 20,000 people voted, while last year's competition had 47,000 people vote on the contest, and Radio-Canada expects to see more than 50,000 people for this next edition.
Châteauneuf says ad time for Bye Bye is always sold out, but in past years Radio-Canada automatically entered all the ads purchased to run during the show into the contest regardless of whether or not companies produced a custom campaign. This year, companies had to specifically submit their entry by Oct. 1.
"We decided to put emphasis on creative talent, and said if you want to participate in the competition, you need to have the best creative," she tells MiC. "They have been sending us incredible creative, I think it's going to be a very high-level competition. We are very excited about it."
With 4.66 million viewers last year, representing a 94% market share, Bye Bye is a phenomenon for Quebec audiences, especially when compared to viewership numbers in the English-language market. Last year, 1.24 million Canadian viewers tuned in to Dick Clark's New Year's Rockin' Eve, while CBC's Canada's New Year's Eve: Countdown to 2021 brought in 1.13 million viewers.
"For our next edition in 2022, we would like to have more advertisers from the English Canada market because it is such a good opportunity to reach a big audience in the Quebec market," says Châteauneuf. "We have a few on the regular spot buy, but the ones who really send us specific creative, we need to increase that next year."
Last year, Les Producteurs de lait du Québec took home the top prize for a campaign created by Lg2, while the pet supply company Mondou came in second place (also created by Lg2), and Éleveurs de porcs du Québec took home third for their ad from Cossette Media.
Although Châteauneuf wouldn't reveal which companies are participating this year, they are encouraged to promote the competition on social media ahead of the show on New Year's Eve.