Captivate and FrontRunner tap vacancy trend to create ad space
The U.S. and Canadian companies partner on WindowFront to place DOOH screens on empty building facades in urban centres.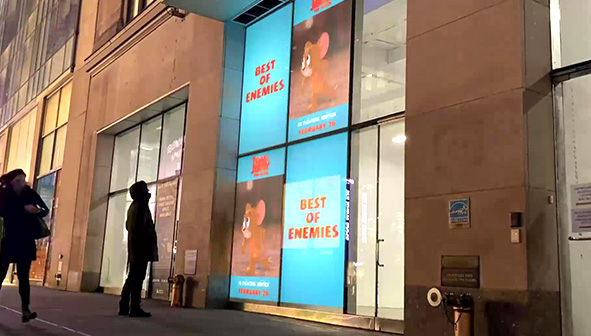 New York's Captivate and Regina-based FrontRunner Technologies recently entered a strategic sales partnership.
As a result, Captivate Windowfront was created, leveraging FrontRunner's projection technology and audio and light recognition platform to place new DOOH screens on vacant building facades in urban centres.
The new partnership enables Captivate – known for its network of elevator and large format displays in North America, with 4,400 screens that generate 15 million impressions across 14 Canadian markets – to expand further into Canada, as well as increase its foot traffic by reaching more consumers in high-density urban areas.
Captivate Windowfront is the latest product within its digital video media portfolio, which also includes Office, Residential, Ride, Ski, and Cross-Device.
FrontRunner's technology integrates full-motion digital content into DOOH products such as WindowFront. Ad space is offered through FrontRunner's self-serve platform, Creator App. The company has also introduced its WindowShopping platform for retail, which it says offers full-window interactivity.