Mary Brown's enlists an influencer to 'de-age' its social presence
As part of a new, ongoing focus on TikTok, the QSR is giving K. Showtime autonomy over the chicken-related content he creates.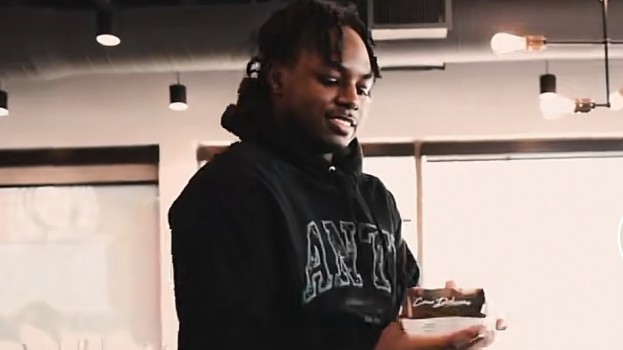 Mary Brown's Chicken has teamed up with a Toronto-based influencer for a one-year brand partnership that will be the cornerstone of an increased presence on TikTok.
According to the terms of the deal, Toronto influencer Kevon "K. Showtime" Watt, a rising YouTube, TikTok and Instagram star, will develop content incorporating Mary Brown's chicken across his numerous platforms.
The brand, which has 200 quick-serve poultry restaurants across Canada, will engage the viral Toronto hoops sensation to provide vignettes introducing millennials and Gen Z to Mary Brown's menu.
"One of our goals is to de-age the brand," says Val Sharivker, social media manager for Mary Brown's. "We started out in St. John's, Newfoundland and we're very well known amongst the older generation, but now we're expanding so rapidly in the West, we want that kind of exposure, because he's also very local to Toronto. We wanted to find someone to talk to the audience in an organic manner. He's really good at that."
This first deal was arranged by digital strategy firm Equation Sales. Sharivker says that K. Showdown won't be the last influencer involved with Mary Brown's, and that she's scouting the platform regularly to discover new talent.
"There's a lot more to come," she says. "We're really focusing on TikTok this year, whether that's partnering, creating our own content or running ads."
She also says that K. Showtime will more or less dictate the content of any Mary Brown-related message he delivers.
"My goal was to just let him be autonomous," she explains. "The last thing I want is to offer my opinion and then it doesn't resonate with his audience and it's irrelevant. So, he generally does keep in contact with me about his plan, but I definitely let him have free rein over his content."
Sharivker says there will be an estimated 15 different vignettes with K. Showtime involvement over 2022, to capitalizing on his followings of 300,000 on TikTok, 200,000 subscribers on YouTube and 166,000 on Instagram. Like many creators on TikTok, K. Showtime's content frequently reaches outside of his follower base: a recent video with Drake has earned over 33 million views so far.
Showtime posted his first Mary Brown TikTok spot on Jan. 27, having already earned over 27,000 engagements. There will also be a real-world activation in the summer, bringing a food truck to basketball and sports events he participates in.
Sharivker says the brand message is also that "we're just trying to have some fun and be in the sphere of social media, relevance and trends. We want to let people know that fried chicken is fried chicken, but as a brand, we just want to have fun, too."