How Bitbuy was able to own the crypto conversation during the Super Bowl
Unlike the wave of crypto ads that were seen in the U.S., Bitbuy had a unique chance in Canada to kick off a year-long campaign.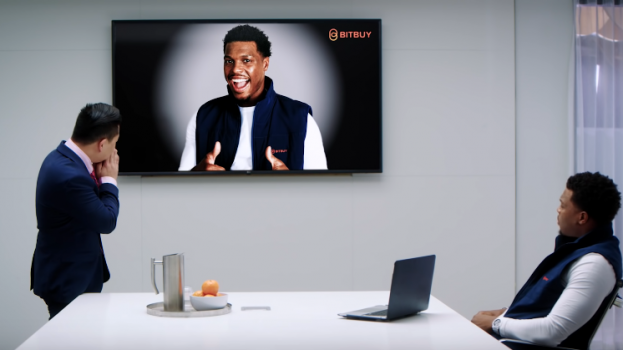 There were two big themes in the ads viewers in the U.S. saw during the commercial breaks of Sunday's Super Bowl: electric vehicles and cryptocurrency.
And while Canadian viewers on CTV got their fair share of EV ads from the likes of BMW, GM and Chevrolet, crypto did not have as big of a presence north of the border, with two notable exceptions: Wealthsimple – which promoted its crypto-trading service after commercial breaks through a sponsorship in the game's second half – and Bitbuy.
Bitbuy enlisted former Toronto Raptor Kyle Lowry – who also has an equity stake in the Canadian crypto trading platform – in its ad, which aired in the prized post-halftime show spot, which historically delivers some of the game's highest ratings.
Besides the fact that Canadians still hold a lot of affection for Lowry, Binu Koshy, Bitbuy's marketing and communications director, says picking an athlete for its spokesman over the big-name celebrities that starred in U.S. ads was a result of research that suggested sports personalities are more popular with cryptocurrency aficionados.
"There are studies that showed a direct correlation between crypto- enthusiasts and sports enthusiasts, even more so when it comes to sports betting enthusiasts," he says.
The playful 30-second spot takes place in a pseudo-Bitbuy boardroom, where Lowry is pitched an ad that casts crytpo as the next "big opportunity" people won't want to miss out on – which the marketing exec likens to the 6000 shots Lowry hasn't made through the course of his career.
The ad is the first in a campaign Bitbuy has planned to roll out through the rest of the year. And besides the affinity with sports fans, launching the campaign during the Super Bowl made sense because of the exclusive and potentially unique opportunity it had to own share of the crypto voice this year.
Bell Media does not allow cryptocurrency companies that aren't registered with a securities commission to advertise on any of its platforms, Koshy says. Given that the space is still nascent – and U.S.-based leaders like Cyrpto.com have yet to register locally – that means Bitbuy was one of the few that had the option of a Super Bowl ad after it registered with the Ontario Securities Commission in November.
"That might not be the case next year, because I know a couple [U.S. companies] are trying to get registered in Canada," Koshy says. "But we thought this was our chance to be the sole communicator guarding our platform in the Super Bowl. When we got registered on Nov. 30, we set our sights on the Super Bowl."
Koshy also says Bitbuy's media strategy didn't change until six months ago, when it had attracted its 400,000 users by
exclusively focusing on digital.
"The company was pretty much going after the Gen-Z and the millennials, who live in a digital world," he explains. As Bitcoin's value shot through the roof during the pandemic, Koshy says platforms like Bitbuy capitalized on the growing number of curious people who were trying to figure out where they could invest in the movement.
Like many cyrpto companies, Koshy said Bitcoin took a bit of a drop in value last summer when companies like Google and Facebook began placing heavy restrictions on crypto advertising. Hit with an impasse, Bitbuy realized that in order to grow the brand, it needed to broaden its audience, and with platforms that offered more mass reach.
"We made a choice to go after Gen X and Boomers, and a lot of those people still live in the traditional media space," says Koshy. "It's now time to play in that space, and when we got registered, that allowed us to do that. That opened doors. And why better way to reach this segment than the Super Bowl, because at the end of the day it's still one of the only media vehicles where you can reach so many people all at one time, and especially this target."
Following the Super Bowl debut, Bitbuy's ad also appeared during TSN's post-game SportsCentre broadcast, and Monday will begin airing on BNN Bloomberg, CTV News Channel and CBC News Network. It will also appear on a wider range of sports programming, including every Sportsnet Raptors broadcast until the end of the season, as well as more Sportscentre buys on TSN.
There is also a connected TV buy not only to reach cord-cutters, but Canadian viewers watching U.S. networks that would otherwise be inaccessible. There is also a programmatic buy targeting digital display ads, as well as social.
Koshy says that Bitbuy's plans are to roll out the campaign's second commercial in April to coincide with the NBA and NHL playoffs, and in the summer, it will be followed by an OOH campaign, all of which will also feature Lowry. The final commercial will air around September to greet new seasons from the NFL, NHL and NBA – Koshy says the focus on sports is to increase Bitbuy's reach and further engage the "crypto-curious."