Why in-housing media follows a different path in Canada
Media.Monks' Brian Schwartz provides the questions marketers in Canada should be asking if they are considering handling media on their own.
By Brian Schwartz
As brands look for ways to connect with audiences in an online environment that is growing more complicated by the moment, it's no surprise that many are looking to lower costs, better manage output and create efficiencies by bringing data analytics and digital media in house. But here in Canada where the access to talent and the size and scale of operations can be lighter and leaner than in the US, companies have been hesitant to adopt in-housing strategies for fear of biting off more than they can chew.
In-housing is not a black/white, all-or-nothing prospect. Yes, some find themselves failing because they're trying to do everything. But for most, a hybrid model—where in-house staff members take control over certain functions and partners handle others—might be ideal.
Brands must first focus on determining where they fall along the spectrum of control, then build internal teams and capabilities needed to transform their marketing efforts. And our team here in Canada has adopted a Canada-first approach, providing options suitable for organizations that may be running leaner than those in the US. So if you're considering in-housing, here's food for thought straight from those of us on the frontlines.
One size does not fit all
No two businesses are alike. So it makes sense that no two operational solutions would be alike. And because there are a multitude of things to consider—like training teams, navigating attrition and managing risk, for example—an extremely important first step is to identify and align on your north star. What is in-housing meant to accomplish? How far along are you in taking control of your technology, strategy or data to drive better outcomes? Is it a pure cost cutting exercise?
After closely considering costs, time considerations, tradeoffs and risks associated with each option, it's important to question what might be missing—or more importantly, what could go wrong—for a full picture of what you're willing to take on. There are a number of creative ways that leaner operations—like many in Canada—are effectively meeting their goals without a massive overhaul: cross-utilizing data and analytics personnel in other areas of the organization to work with marketing, for example, or continuing to outsource some aspects (like trafficking or offline) while bringing strategy and execution in house.
Get real about where you're at (and where you're going)
Whether in-housing some or all media buying operations, excitement and expectations are typically very high at the beginning of the process. Yet no matter how well-prepared organizations and teams may think they are, the path to in-housing nearly always follows a hype cycle similar t Gartner's hype cycle in technology (see graph below, and click to enlarge). This results from overly inflated expectations and subsequent reality checks. It requires leadership at the helm who understands the ins and outs of the internalized operation, is upskilled to manage in-house capabilities (including specialty staffing and running specialized teams), and has a realistic view of what it will take to get there. Internal alignment is absolutely key. The C-suite must be well-equipped to educate and lead the organization in a unified effort.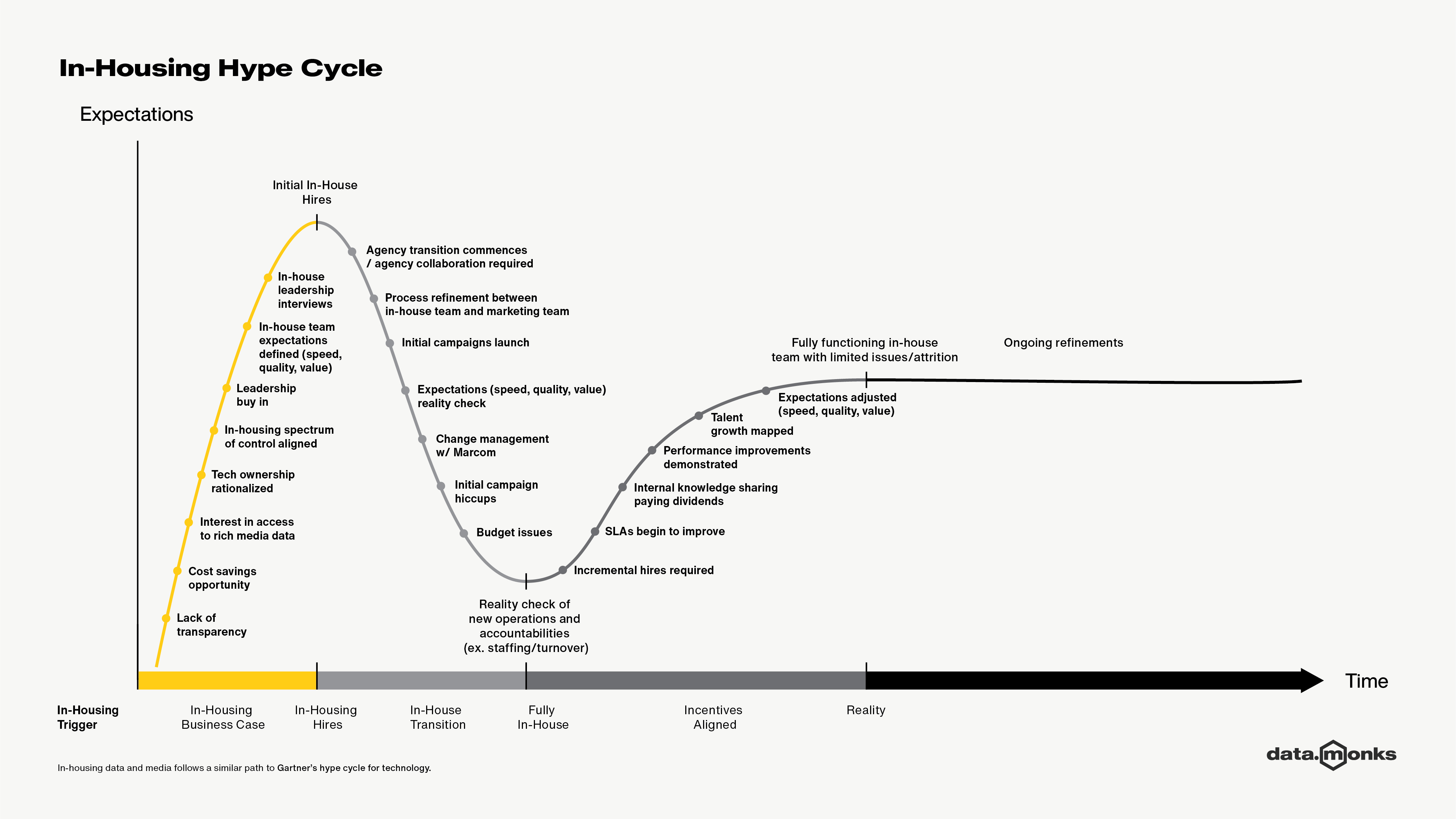 The smoothest in-housing transitions effectively manage expectations by moving leadership across the in-housing hype cycle quickly. In Canadian organizations, bringing multiple channels of digital media in house simultaneously or streamlining buying strategies into a small number of platforms during the transition (and potentially beyond) can help reduce requirements, partners and the potential for error or wasted time.
Use a wide-angle lens and think long term
In data analytics and media buying, a Center of Excellence can be extremely useful as both a resource to the broader organization and a tool for attracting niche talent. And because many of today's marketers are not digital natives or marketing technologists, a COE may initially be set up so that brand managers across the lines of business have access to talent skilled in search, social or programmatic/display. But in an ideal world, that expertise should be distributed throughout the organization so a COE can focus on the latest industry developments—like TikTok, programmatic/addressable TV or blockchain/NFTs.
The key to setting up a COE that consistently serves the needs of your organization, is to find and hire the right people, train them and then send them out into the organization as change agents. An engaged SME (subject matter expert) who enters the COE as a media practitioner but hones their skills in other areas—ecommerce, for example—can transition out of the COE and into the organization, now with a vested interest in seeing your business succeed. The added benefit? Employee retention via new learning and growth paths.
Stay on the bleeding edge
For Canadian organizations—whether small, running lean or large—there's a considerable amount of value that can be gained by taking some control of your media operations. In-housing presents opportunities that merit exploring, particularly as partner agencies become more flexible and the media landscape continues to change. At the end of the day, bringing operations in house may be an opportunity to improve collaboration, increase brand stewardship, and align incentives to keep your organization on the bleeding edge of where the digital media industry is going.
Brian Schwartz is SVP of consulting at Media.Monks