Super Bowl dominates Canadian ratings: Numeris
The game was the top national broadcast for the week of Feb. 7 to 13 in every Anglophone market.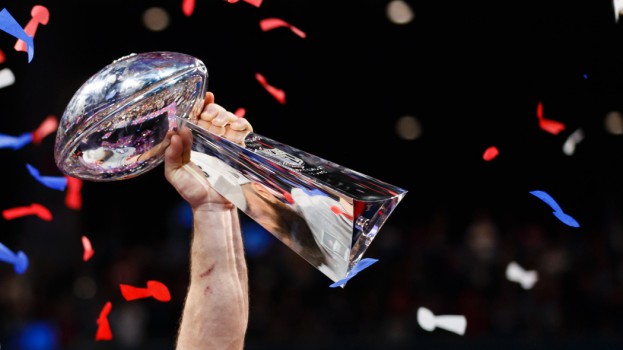 The NFL's Super Bowl LVI, which saw the Los Angeles Rams beat the Cincinnati Bengals, was the top-performing show for the week of Feb. 7  to Feb. 13, according to Numeris data.
Despite a slight drop in viewership from last year and the overall downward trend in viewership in recent years, the Super Bowl remains a major TV event for Canadians.
Bell Media previously reported an average audience of 8.1 million viewers across its three broadcasts on CTV, TSN and RDS in its overnight data, but more comprehensive data now available from Numeris shows that the AMA for this year's broadcast on CTV was 7.225 million (a drop from 7.9 million viewers in 2021), with TSN's broadcast adding 1.26 million (down from 1.64 million last year) and RDS' Francophone broadcast drew 951,000 viewers (compared to 1.12 million last year).
The Super Bowl and the pre-game Kickoff dominated the ratings in most other cities across Canada, with CTV's broadcast and pre-game show taking the top two spots in every Anglophone market except for Edmonton, where the pre-show was third. 9-1-1: Lone Star was the top non-football program of the week, placing third nationally and reaching the top five in major markets except for Edmonton and Vancouver/Victoria.
In Quebec, Le bonheur and Star académie 2022 – Le variété held the first and second spots, respectively, once again this week.
National
1. NFL Super Bowl on CTV Sunday at 6:32 p.m.: 7.225 million
2. Super Bowl Kickoff on CTV Sunday at 5:58 p.m.:3.729 million
3. 9-1-1: Lonestar on CTV Monday at 8 p.m.:  1.729 million
4. CTV Evening News Weekend on CTV Saturday at 6 p.m.:  1.459 million
5. The Cleaning Lady on CTV Monday at 9:01 p.m.: 1.377  million
Quebec (Francophone)
1. Le bonheur on TVA Wednesday at 9:30 p.m.:  1.365 million
2. Star académie 2022 – Le variété on TVA Sunday at 6p.m.: 1.317 million
3. L'Échappée on TVA Monday at 8 p.m.: 1.178 million
4. Les braclets rouge on TVA Tuesday at 8 p.m.: 1.163 million
5. Alertes on TVA Monday at 9 p.m.: 1.121 million
Toronto/Hamilton
1. NFL Super Bowl on CTV Sunday at 6:32 p.m.:  1.449 million
2. Super Bowl Kickoff on CTV Sunday at 5:58 p.m.: 818,000
3. NFL Super Bowl on TSN Sunday at 6:32 p.m.: 420,000
4. Hockey Night In Canada on Sportsnet Saturday at 7:16 p.m.: 363,000
5.  9-1-1: Lonestar on CTV Monday at 8 p.m.: 341,000
Montreal
1. NFL Super Bowl on CTV Sunday at 6:32 p.m.: 191,000
2. Super Bowl Kickoff on CTV Sunday at 5:58 p.m.: 135,00
3. 9-1-1: Lonestar on CTV Monday at 8 p.m.: 82,000
4. CTV Evening News Weekend on CTV Saturday at 6 p.m.: 60,000
5. The Cleaning Lady on CTV Monday at 9:01 p.m.: 50,000
Calgary
1. NFL Super Bowl on CTV Sunday at 4:32 p.m.: 346,000
2.  Super Bowl Kickoff on CTV Sunday at 3:58 p.m.: 207,000
3. The Amazing Race on CTV Wednesday at 7 p.m.: 82,000
4. Hockey Night In Canada on Sportsnet Saturday at 8 p.m.: 81,000
5. 9-1-1: Lone Star on CTV Monday at 9 p.m.: 78,000
Edmonton
1. NFL Super Bowl on CTV Sunday at 4:32 p.m.:  188,000
2. NHL Hockey on Sportsnet Wednesday at 6:13 p.m.:  113,000
3. Super Bowl Kickoff on CTV Sunday at 3:58 p.m.:  107,000
4. NFL Super Bowl on TSN Sunday at 4:32 p.m.: 88,000
5. The Curse of Oak Island on History Wednesday at 10 p.m.: 60,000
Vancouver/Victoria
1. NFL Super Bowl on CTV Sunday at 3:32 p.m.:  589,000
2. Super Bowl Kickoff on CTV Sunday at 2:58 p.m.:  303,000
3.  Hockey Night In Canada on Sportsnet Saturday at 4:16 p.m.: 176,000
4. The Amazing Race on CTV Wednesday at 7 p.m.: 138,000
5. NFL Super Bowl on TSN Sunday at 6:32 p.m.: 121,000