Spotted! Stella Artois lights up a call for work-life balance
The beer brand's latest campaign inspires Canadians to reclaim their after-work hours and enjoy their 5-9 pm time.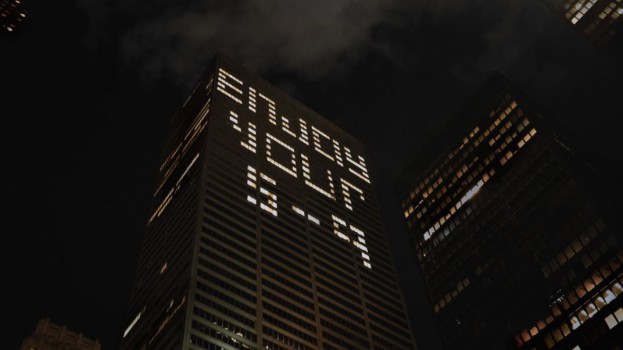 Stella Artois turned a downtown Toronto office building into a light installation to remind for Canadians to make time away from work.
The OOH execution kicked off the brewer's latest "Make Time" campaign, which aims to inspire Canadians to disconnect from work and make the most of their after-work hours – or, as the campaign states, "reclaim" thier "5 to 9″ and savour life with those who matter most.
According to a recent Statistics Canada study, between 35% to 51% of Canadians working from home are working longer hours than prior to the pandemic, despite having the same level of productivity. In contrast, only 3% of WFH Canadians reported working shorter hours. These findings prompted Stella Artois to encourage Canadians to stop burning the candle at both ends and take back their after-work hours.
The campaign will continue the narrative on TV, in OOH billboards, on social media and digital programmatic. The brand has also launched the Stella Hour Finder – a digital resource that allows users to see all restaurants and bars in their area (excluding Alberta) offering Stella Hour Specials to enjoy 5-9 pm. The website will be live indefinitely.
Work-related burnout is an ongoing issue in all sectors across Canada. In Ontario, the provincial government introduced a new law requiring businesses with more than 25 employees to have a written policy concerning the right to "disconnect," which includes emails, phone calls or video calls. The law doesn't specify what that policy must include, only that an employer must have one in place.
This campaign was created by Labbat's in-house agency DraftLine, with PR agency Veritas Communications, media agency Dentsu and XM agency Salt XC.