What's actually helping women in media get ahead?
From flexible work to help juggling the demands of work, home and childcare, industry leaders weigh in on what has helped them succeed.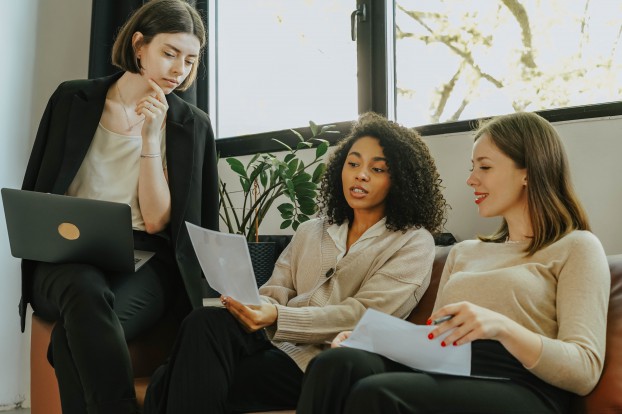 Life for women in the media industry has come a long way since the days when it was essentially viewed as a clerical job, mainly staffed by women who were paid less than their male counterparts. And even though women across industries in Canada today have achieved a lot socially, economically, culturally and politically, there's always potential to do more.
In recognition of IWD, MiC connected with several women in senior positions in the industry to get their take on which programs and policies helped them achieve their own success.
What policies, practices, benefits, and support mechanisms are in place at your agency (or that you wish were available) that contribute to success?
Cynthia Steele, president, Mediabrands Content Studios: Having flexibility in my working hours is critical to my success as a leader. I have a three-year-old daughter and have gone back to school part-time to pursue my passion for wine – having the ability to work outside of a standard 9-5 is critical. Programs such as summer hours ensure that I can get dedicated beach time with my daughter every Friday afternoon in the summer. Our allotment of 12 wellness days allows me to be fully present with my child if she is home sick. Our hybrid work structure means I have two additional hours each weekday where I am not commuting, and our "no-meetings Fridays" provide me the head-down focus time I need to wrap up the week and head into the weekend in a good headspace.
Dahlia Trinh-Vet, VP media, Glassroom: Glassroom offers great flexibility to help employees achieve a healthy balance between work and family. Added to this are several benefits, including a generous insurance plan that includes the family, flexible days off, and a generous vacation policy. In order to take into account the new reality of workers due to COVID, a hybrid return to work, coupled with a 9 in 10 policy that allows for a planned day off after 10 consecutive workdays, allows employees to take better care of their families. As a mother, this is a significant advantage. Glassroom is innovative in the way it manages its employees and fosters their growth. In fact, we are talking more about coaching employees vs. traditional management.
Tessa Ohlendorf, managing director at Media.Monks: We started at the beginning of the pandemic with COVID Friday afternoons, where the whole company is off after lunchtime. We started that initially to help everybody cope with the demands of the pandemic, but also in particular women who still bear the brunt of childcare and home care demands. But since then, we've been really focused on what other programs we can put in place that help the full company but are primarily focused on supporting women caregivers. Some of those options include testing out a four-day workweek and also changing the way that we look at roles so that it's not just a full-time option or nothing.
Leith Mellors, chief people officer, Mediabrands: A strong support network is one of the most significant contributors to my success. I have an incredible group of female peers, supportive advocates, and strong personal and professional connections surrounding me who inspire and motivate me to continually grow and evolve. I'm proud to work for a company so focused on building an equitable and inclusive workplace as demonstrated by the female representation on our Canadian leadership team and the continuous efforts across the IPG network to propel women and all underrepresented groups forward.
Katelyn Taylor, director, global search operations, GroupM: Even before COVID-19, agile working provided me the ability to shape a workweek that fit my life and let me be the happiest, most productive version of myself. The biggest driver of success for me has been a network of support mentors of all genders who have taken the time to give me feedback and advice. Having advocates who put my name forward for opportunities is a huge privilege, and I work hard to ensure I'm finding ways to advocate for other colleagues in the same way.
We have a global WPP program called Walk the Talk that I participated in several years ago that allowed me to take time away from the office to focus on myself, my career, and to build friendships and connections with other women across the network. I also really appreciate that we've hired professionals specifically focused on DE&I as part of our People group. There's a stream of updates around groups, benefits, events, and campaigns that provide plenty of options to meet my specific needs.
Sarah Thompson, CSO, Theo: I'm going to speak of what needs to happen. The opportunity now for agencies and networks, is to consider the total person that they are supporting and the full context of their life. Pay equity, healthcare, childcare, legal rights, physical and mental abuse, and more are what women face every day in the workspace. We need companies to start seeing the bigger picture of the civil liberties and rights that are being stripped away from women around the world and take a stance to support their people in how they navigate life and what brings them stress.