Converse tries on a new Snapchat fashion feature
Outfit Sharing allows the brand to create excitement about the launch of new products, like the Lugged 2.0 sneakers later this month.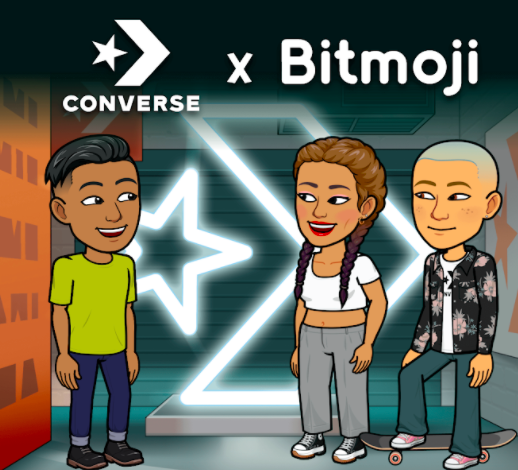 Snapchat has introduced its new Outfit Sharing feature with a partnership with Converse that gives users the ability to dress their Bitmoji avatars in Converse styles.
Converse is promoting the partnership across its channels, including its website, retail stores, and social media, ahead of a new sneaker drop later this month.
While this is the first time the new feature has been used with Snapchat, Converse is not the first brand with an avatar fashion collection. Bitmoji has several existing fashion partnerships with brands such as Levi's, Off-White, Ralph Lauren, Jordans, Crocs, and is always adding new branded collections to its library.
Snap users don't have to buy digital apparel but can choose thousands of fashion garments and accessories from the Bitmoji wardrobe – and can share their favourites with friends. When Converse releases its new Lugged 2.0 shoes in brick and mortar stores, Snap users will be able to add the digital versions to their avatars.  With the Outfit Sharing feature, users can then share virtual clothing with their friends.
Snap and Bitmoji users will also see the Converse designs on their Bitmoji in a variety of places on Snapchat, including in Chat and games, on the Snap Map, in Lenses, and in personalized content like Bitmoji Stories.
The Outfit Sharing feature is one of the new ways Snap is working to attract brands to the app. In May last year, the company introduced Public Profiles for Businesses to allow brands to create a more permanent presence on the app where they can showcase their AR Lenses and Stories, as well as a Shop page where users can browse and buy products. Snapchat has been working with brands for years to figure out new ways for advertisers to reach consumers. In 2020, luxury designer Gucci partnered with Snapchat to create awareness around its new sneaker campaign and launched the first global augmented reality shoe try-on campaign on the platform.