Spotted! Australia welcomes Canadian tourists back
OOH video projections on buildings in Toronto and Vancouver are part of a larger campaign to inspire Canadians to take a vacation down under.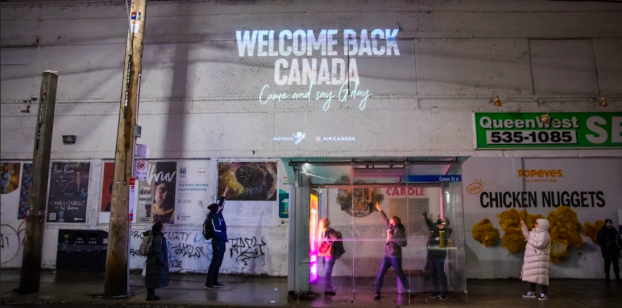 Tourism Australia recently brought the country to life with OOH video projections of beautiful landscapes and wildlife on buildings along with the message – "Welcome Back Canada. Come and say G'day."
The ads were projected in high foot traffic neighbourhoods including Queen St. West in Toronto and Seymour Street in Vancouver. Also included was a QR code that took Canadians to a site to enter for a giveaway of two business-class flights from Canada to Australia, courtesy of Air Canada.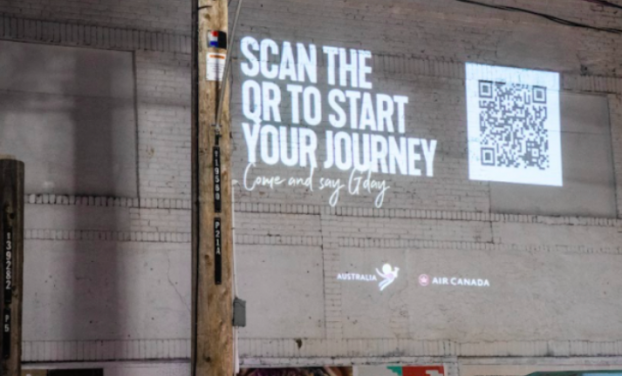 Tourism Australia and Air Canada collaborated with experiential digital marketing agency Thinkingbox, and PR agency Citizen Relations, to execute the visual activation. The campaign is part of Australia's celebration after its government dropped pandemic-related border restrictions after two years. To spark inspiration for future visits, Tourism Australia's new campaign hopes to inspire people to take a big holiday in Australia with the theme, "Don't Go Small, Go Australia."
Australia's borders have been open to all fully vaccinated Canadian visa holders, business travellers, and tourists since February. Air Canada has resumed direct flights from Vancouver to Sydney three times a week and will ramp up to daily flights starting May 1 with direct flights to Brisbane starting in July.