TVA's Star Academie is winning with audiences and sponsors
The talent competition series attracted more than 30 sponsors for its seventh season.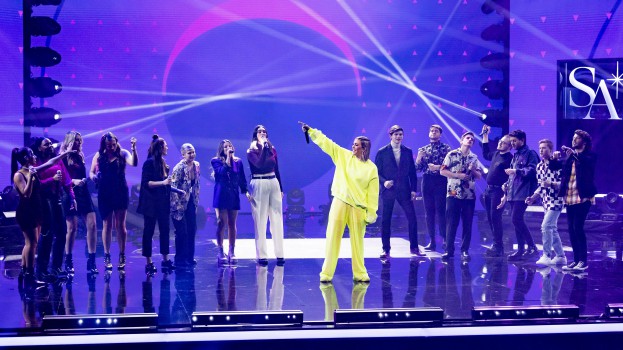 TVA's Star Académie is nearing the end of its seventh season, where it will crown the show's next champion. The show itself battles it out each week in its own way – to be the top-rated show in the Quebec francophone market.
The talent competition series returned after an eight-year hiatus in 2021 and follows 15 singers who train at the Star Académie music school. One of the big changes to the show's format this year is that viewers now have access to competitors round-the-clock while they filmed Big Brother-style while in the Maplewood Manor.
The talent competition series is a major hit among Quebec audiences. The show is watched by 1.5 million people each week and has a 42% market share, according to TVA's parent company Quebecor. The show relaunched in 2021 to great success, and at least 80% of its sponsors returned this year, according to Patrick Jutras, SVP and president and chief advertising revenue officer of Quebecor and TVA Group.
Jutras tells MiC the network was happy not only with the amount of returning sponsors but with the way they approached the program in terms of media creativity. More than 30 sponsors signed on this year, including Pepsi, Walmart, Toyota, ReMax and TD Bank, who had custom integrations that were specifically tailored to the brand and the show.
"We are so fortunate to have a group of people we're working with that are really open to business in terms of integrating brands within the show," says Jutras, adding that integrations have to fit with the DNA of the show and flow seamlessly within the broadcast.
While a singing competition show might not be the most obvious opportunity for brand integration, the two show a week format – one covering their training at the manor, one a weekly on-stage performance – provides many instances that feel natural. One example this season involved a chef cooking for competitors at their manor using Walmart products – an integration that Jutrus says flowed in a way where the sponsorship felt natural.
Star Académie will reveal this season's winner at the end of April. Although TVA hasn't renewed the show yet, with 1.5 million people tuning in each week it seems likely the show will return again.
"I like to say to my team that we have a Super Bowl, when you compare it with percentage rating in terms of how much population we reach on every Sunday night," says Jutras.
Jutras wasn't able to confirm the show's renewal just yet, but he says the series has a long list of advertisers and wants sponsors to know they are open for business as long as it makes sense within the show.