Spotted! Spider-Man takes over Yonge-Dundas Square
The activation begins a larger five-week media campaign to promote the film's digital and physical release.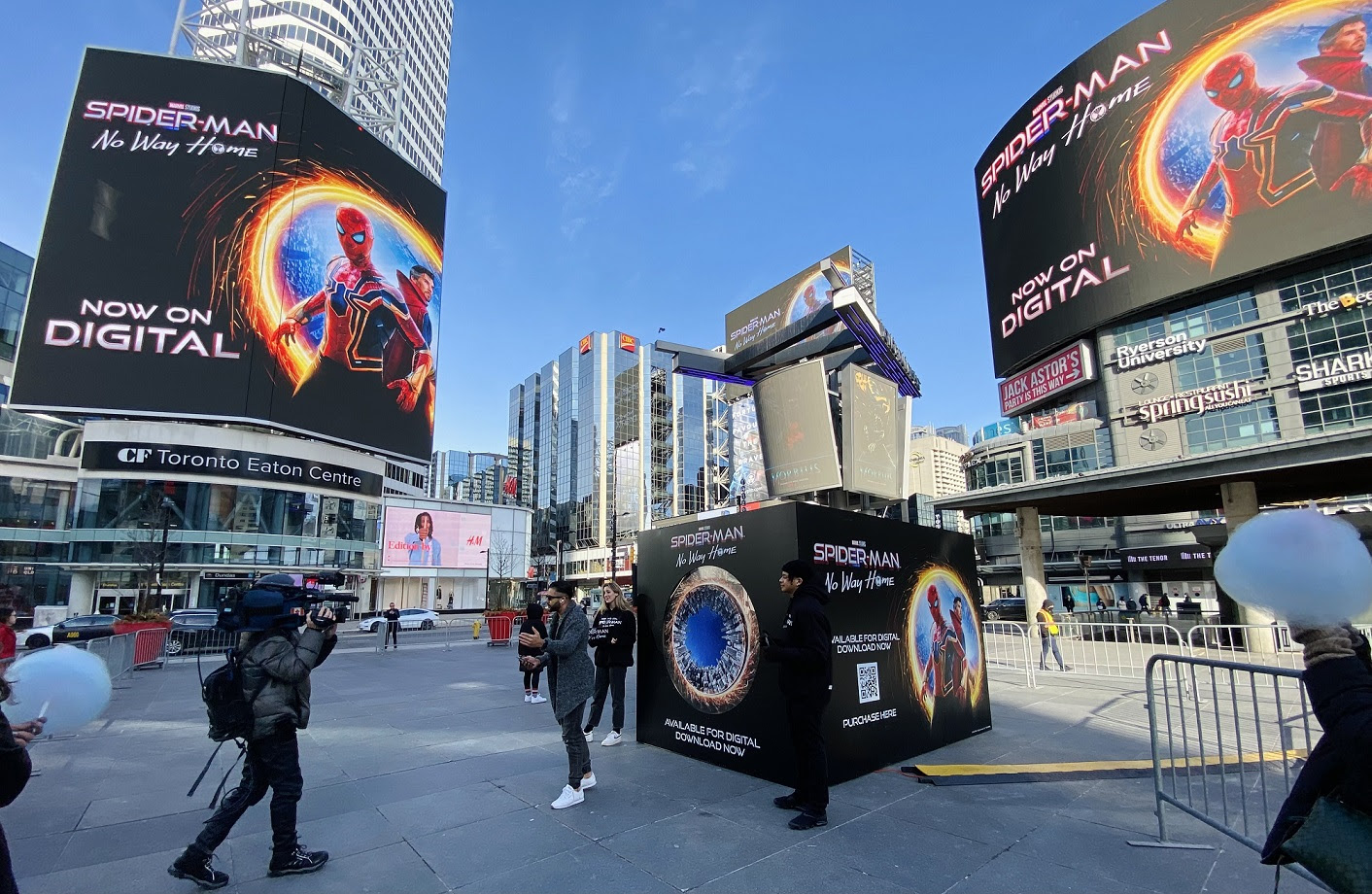 Look out Toronto, here comes Spider-Man.
To promote the global digital and physical release of Spider-Man: No Way Home, Sony Pictures Canada has launched a 24-hour digital OOH and experiential campaign in Toronto's Yonge-Dundas Square.
The studio will take over five screens to play a 20-second spot every three minutes for 24 hours on Tuesday. A branded truck shop has also been set up in the square where fans can pick up Spider-Man branded tote bags, movie night snack packs, red and blue cotton candy and newspapers. There will also be a photo op where fans can take selfies and share the experience on social media using the hashtag "#Peter123GO."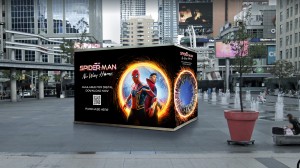 "Dundas Square is the epicentre of Toronto," says Rita Steinberg, director of digital media for Fuse Create, the agency that created the execution. "Having the activation in Dundas Square is a fantastic compliment to the digital out-of-home boards, and we wanted to have that kind of 360-immersive experience as much as we could."
In addition to Tuesday's activation, Fuse Create produced a five-week media campaign that includes programmatic media, connected TV, social media, and digital OOH.
"We've had to adapt our tactics over the last couple of years, specifically because media habits have evolved and changed, especially because of COVID," says Steinberg, explaining that due to the increased popularity of streaming, Fuse has a much larger focus on connected TV and a much more conversion-based approached for the digital side of the campaign.
"Which is kind of where the activation came in. We wanted that incremental awareness on a different scale, and because it's a conversion-first approach, the activation really allowed us to kind of scream from the rooftops about Spider-Man coming out."
In addition to the focus on connected TV, the campaign also includes social media and programmatic video display to drive larger brand awareness. The campaign also gets more contextual with the film's fanbase and audience through channels like Twitch and leaning in on The Score for sports audiences. Steinberg says the agency also focused on going after select content verticals on YouTube, as opposed to broad targeting.
The campaign's first three weeks are focused on digital sales, while the last two weeks are timed to coincide with the film's physical release on April 12. Steinberg says the film is one of the studio's larger releases, and while media budgets have been drastically different because of the pandemic, it feels like things are starting to return to what they were pre-pandemic.