BuzzFeed Canada launches homepage takeover product
KFC is the first client to use the new-to-Canada ad unit.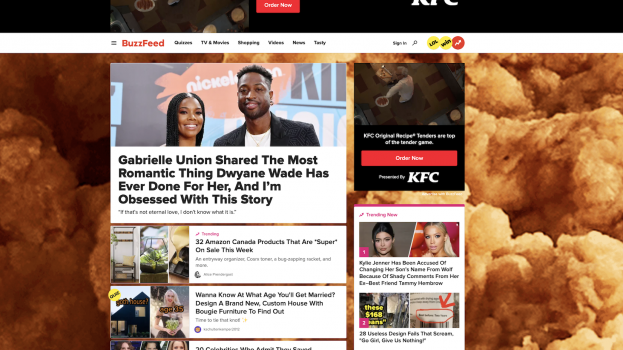 BuzzFeed Canada launched a new homepage takeover skin and customized cursor, aimed to create more engagement with the site's younger audience.
The product, which was previously only available to clients in the U.S. and U.K., includes a custom background skin image, custom cursor, as well as an ad unit at the top of the homepage that includes video, social copy, logo and CTA button. The company says the unit drives a 35x higher CTR than standard banners, based on data from use of the product in the U.S.
The first Canadian client to use the ad unit is KFC. When readers visit the site the entire background is covered by an image of the fast-food company's fried chicken, and the cursor has been turned into the brand's signature fried chicken bucket. BuzzFeed says it is able to drive awareness and clicks to order through the ad unit, which addresses KFC's primary and secondary KPIs.
BuzzFeed reaches more than 9.5 million Canadians, according to ComScore, and the website's reach amongst millennials and Gen Z audiences made it an ideal partner for KFC to promote its chicken tenders.
"The custom cursor and skins on this takeover is particularly appealing to help drive interactivity with the brand. We are looking forward to driving direct orders from the page, too," said Telly Carayannakis, director of performance marketing at KFC Canada.
In BuzzFeed's first financial report since going public in December, advertising remained its biggest source of revenue despite recent attempts to push into commerce. Though the company reported a 24% year-over-year revenue growth for 2021, the company's operating costs also ballooned, and is looking to decrease costs by cutting roughly 1.7% of the company's workforce.