Pattison Outdoor adds Kamloops Airport to its portfolio
The out-of-home company strengthens its footing in Western Canada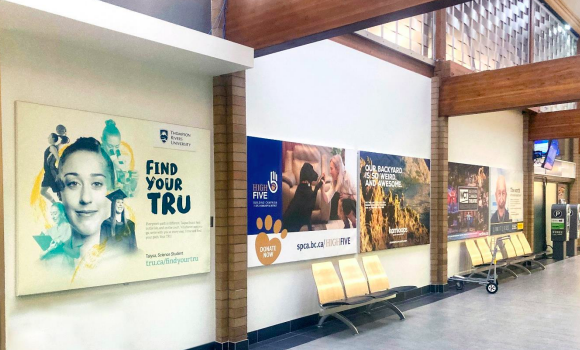 Pattison Outdoor Advertising has expanded its airport presence in Western Canada with the addition of Kamloops Airport in B.C.
The account opens the company's advertising reach to approximately 350,000 more people each year. Kamloops Airport had 104,000 passengers move through its terminal in 2021. Air travel has been down due to the pandemic, but the industry has forecasted passenger numbers will return to pre-pandemic levels in 2024. The airport had 361,000 passengers in 2019 and 351,000 in 2018. The airport offers flights within B.C. as well as Alberta and Ontario via Air Canada, Central Mountain Air and WestJet.
"Passengers will see a refreshed and current advertising program that highlights local and regional services as well as the incredible regional destinations and activities available to visitors to the area," said Ed Ratuski, managing director at Kamloops Airport. "With a variety of static advertising products throughout the terminal and at entrances and exits, advertisers will have flexibility in choosing the ideal spot for reaching their customers."
With the addition of Kamloops Airport, Pattison now operates static and digital billboard inventory in 5 airports in B.C. and 16 across Canada.