The Good Doctor takes top spot: Numeris
Star Academie continues to dominate the Francophone market.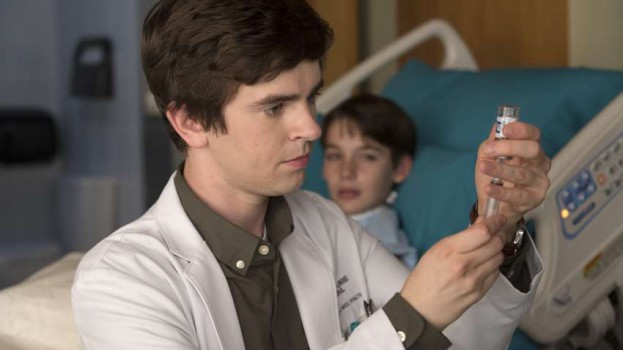 The Good Doctor was the top-performing show across Canada from March 14 to 20, according to data from Numeris.
The CTV series starring Freddie Highmore brought in 1.757 million viewers nationally, unseating 9-1-1 Lonestar, which held the top spot for four consecutive weeks. Survivor brought in 1.672 million viewers for Global, while 9-1-1 Lonestar was watched by 1.639 million viewers.
In Quebec, Star académie 2022 – Le variété continued to hold the top spot in the Francophone market with 1.543 million viewers.
National
1. The Good Doctor on CTV Monday at 10 p.m.: 1.757 million
2. Survivor on Global Wednesday at 8 p.m.: 1.672 million
3. 9-1-1 Lonestar on CTV Monday at 8 p.m.:  1.639 million
4. NCIS on Global Monday at 9 p.m.: 1.338 million
5. The Cleaning Lady on CTV Monday at 9:01 p.m.: 1.335  million
Quebec (Francophone)
1. Star académie 2022 – Le variété on TVA Sunday at 7p.m.: 1.543 million
2. Toute la vie on SRC Tuesday at 8 p.m.:  1.218 million
3. Léo on TVA Wednesday at 9 p.m.:  1.161 million
4. En direct de l'univers on SRC Saturday at  7 p.m.: 1.152 million
5. La vraie nature on TVA Sunday at 9:09 p.m.: 1.137 million
Toronto/Hamilton
1. Survivor on Global Wednesday at 8 p.m.: 421,000
2. Hockey: Leafs on Sportsnet Thursday at 7:08 p.m.:  396,000
3. 9-1-1 Lonestar on CTV Monday at 8 p.m.:  385,000
4. The Good Doctor on CTV Monday at 10 p.m.:  383,000
5. The Cleaning Lady on CTV Monday at 9:01 p.m.: 329,000
Montreal
1. 9-1-1: Lonestar on CTV Monday at 8 p.m.: 63,000
2. Station 19 on CTV Thursday at 8 p.m.: 55,000
3. The Cleaning Lady on CTV Monday at 9:01 p.m.: 53,000
4. The Conners on CTV Wednesday at 9 p.m.: 51,000
5. Chicago Fire on Citytv Wednesday at 8 p.m.: 47,000
Calgary
1.  9-1-1: Lone Star on CTV Monday at 9 p.m.: 83,000
2. The Good Doctor on CTV Monday at 8:01 p.m.: 76,000
3. Survivor on Global Wednesday at 9 p.m.: 76,000
4. Station 19 on CTV Thursday at 9 p.m.: 71,000
5. Grey's Anatomy on CTV Thursday at 10 p.m.: 66,000
Edmonton
1. Star Trek: Discovery on CTV Thursday at 9:05 p.m.: 71,000
2. 9-1-1: Lone Star on CTV Monday at 9 p.m.: 68,000
3. The Curse of Oak Island on History Sunday at 10 p.m.:  63,000
4. The Good Doctor on CTV Monday at 9:01 p.m.: 60,000
5. NCIS on Global Monday at 10 p.m.: 59,000
Vancouver/Victoria
1. Survivor on Global Wednesday at 8 p.m.: 174,000
2. The Equalizer on Global Sunday at 8 p.m.: 158,000
3. 60 Minutes on Global Sunday at 7 p.m.: 156,000
4. NCIS: Hawaii on Global Monday at 10 p.m.: 146,000
5. The Thing About Pam on Global Tuesday at 10 p.m.: 129,000