MLSE signs sports betting partnerships with PointsBet and FanDuel
The multi-year deals will increase brand awareness across four professional sports leagues in Toronto.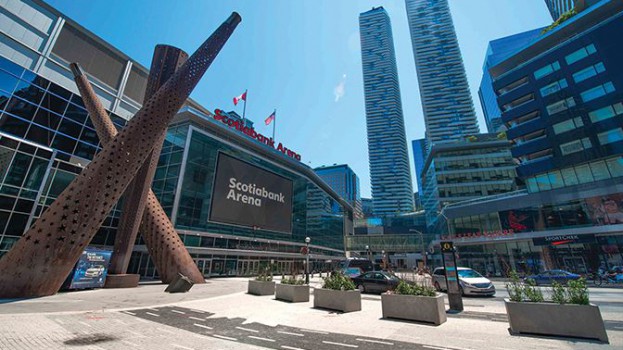 Maple Leaf Sports and Entertainment is partnering with two major sports betting companies now that online gambling is legal in Ontario. The owners of most of Toronto's professional sports teams have partnered with both PointsBet Canada and FanDuel, making both companies official sportsbook partners of the Toronto Maple Leafs, Toronto Raptors, Toronto Argonauts, Toronto FC and Toronto Marlies.
The partnerships follow the opening of Ontario's legalized online gambling market earlier this month. For PointsBet, the deal includes rink board branding for all the Leaf's home games at Scotiabank Arena and at Coca-Cola Coliseum for the Marlies. Additionally, camera-visible courtside LED and front pole branding will appear at the Raptors games and LED field signage will appear at both FC and the Argos games. There will also be OOH components including a digital sign along the Gardiner Expressway.
The partnership will also be activated through in-app programs meant to drive prospective betters through the MLSE app, as well as fan engagement contests, playoff tailgate space and a permanent concourse space inside Scotiabank Arena for all 41 Leafs' home games.
In March, PointsBet Canada signed a deal with the CFL's Ottawa Redblacks and TD Place to become the official sportsbook of Canadian football in Ottawa this season. The partnership with MLSE is another step forward in the company's Canadian strategy, says Patrick Eichner, senior director of communications for Pointsbet.
"We have two of the cornerstone CFL franchises between the Argos and the RedBlacks that we can engage with and make sure the Pointsbet brand is seen and amplified in a responsible manner that makes sense with those teams," he tells MiC, adding that MLSE is a behemoth in Canada and noted the importance of the Maple Leafs and Raptors as franchises across North America.
On Friday, MLSE also signed a deal with Flutter Entertainment that designates FanDuel as an official sports betting partner and PokerStars as an official gaming partner. In addition to the use of MLSE team marks in advertising and marketing, the brands will be featured prominently throughout Leafs and Raptors games via rink board and on-court signage. The partnership also allows the brands to collaborate on marketing integrations with all of MLSE's teams.
Like PointsBet, FanDuel has been rapidly expanding its presence in Ontario. Last week, the sports betting company signed an exclusive, multi-year content deal with TSN to become the network's official sportsbook partner.